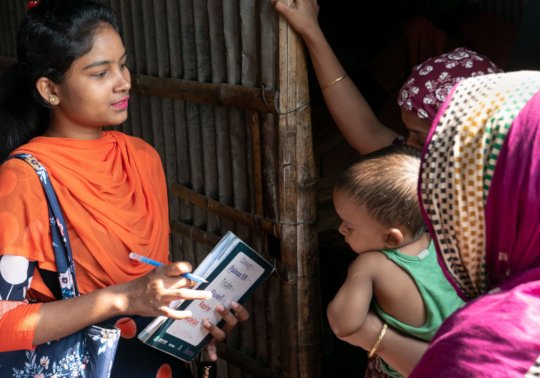 Spreeha Fights COVID-19
We hope you and your family are staying safe during this difficult, uncertain and rapidly changing times. As the situation around coronavirus (COVID-19) continues to evolve, we want to take a moment to share what we are doing at Spreeha to support our communities.

At Spreeha, we recognize the role we play in the communities we serve. We want to ensure that we are doing everything we can to protect our communities from coronavirus. Our team, consisting of doctors, and health and community workers, are creating community level awareness through counseling, and door to door visits. We are educating the community about preventative measures such as hand washing, social distancing, home quarantine, etc.

We are temporarily closing our pre- and after-school programs, adolescent girls' club activities, and mom's club for the safety of the children and pregnant mothers.

Members in our communities are very vulnerable to coronavirus not only because of higher likelihood of getting infected in heavily crowded urban slums, but also, they are the most adversely affected economic group. Because of significant slowdown of economic activities, their livelihood is directly affected as most of them are daily wage earners.

Therefore, we urge you to stay with us during this crucial time! Please contact us at info@spreeha.org if you need additional information.

As we deal with so much uncertainty, there is one thing about which we are certain – we are a family and together, we will come through this, stronger and more deeply connected than ever before.
Spreeha Touched 23,220 Lives in 2019
Can you imagine that your support has touched a whopping 23,220 lives in 2019?
Yes, Spreeha served 23,220 people in healthcare, education and skills training in 2019. These are not just numbers. Behind each number, there is an individual with great stories of hope, resilience, and success! We will bring those stories to you. See the breakdown of our 2019 services in this report.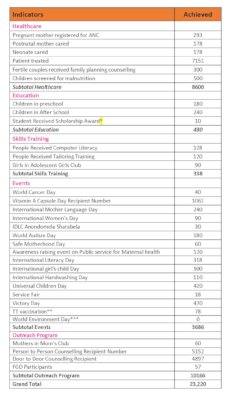 Maruf Dreams to be a Fashion Designer!
Maruf is a seventh grade student attending Spreeha's after-school program in the Rayer Bazar slum area in Dhaka, Bangladesh. Art is his passion. He has been busy with designs and crafts. He designs and sews, and loves to paint and design cards when he is in the Spreeha's after-school club. His favorite subject is night sky, as he now learns that sky is the limit!
Spreeha supports children like Maruf to follow their dreams from an early age. Spreeha's after-school program is designed to provide support and guidance to school going children. It helps them build their social skills and prevent school drop outs. The program encourages skills such as art, presentation, public speaking, debating etc.
Spreeha's Fall Quarter Updates
Spreeha continues to serve in its major areas of healthcare, education and skills training. See the impact summary of our services in Fall quarter.
Raising Awareness on Maternal Health
To increase awareness regarding maternal health, Spreeha arranged a seminar at Spreeha clinic. A total of 120 of mothers participated in this seminar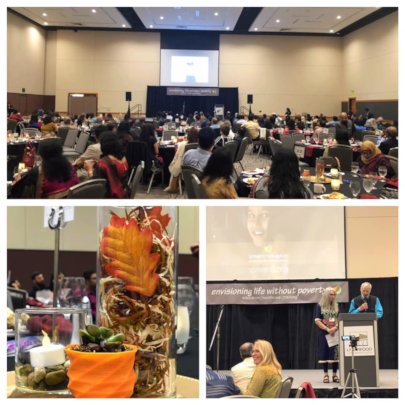 Spreeha Annual Fundraiser Gala 2019
Spreeha's annual fundraiser gala event, Journey of Hope was held on September 21st, 2019 at the Lynwood Convention Center. We had an attendance of over 250 plus and successfully raised above our target goal! The jazz band, local musicians, the illusionist magician was a huge hit with the audience. Silent auction like every year was very popular and had handpicked exclusive items attracting a wide range of audience. The audience was engaged throughout the event and very excited to learn about the progress Spreeha has made over the past year.
Vitamin A-plus Capsule Day, 22nd June 2019
The national vitamin A-plus capsule day was observed on 22nd June in Bangladesh. Spreeha took a daylong initiative to provide the high-powered Vitamin A capsules to local children aged between 6 and 59 months. A total of 500 children were given the vitamin A capsule in the Rayer Bazaar slum area on this day.
Impact Number Summary - April-June, 2019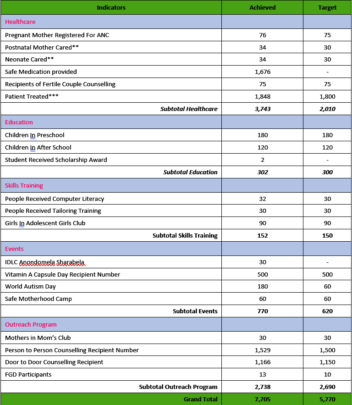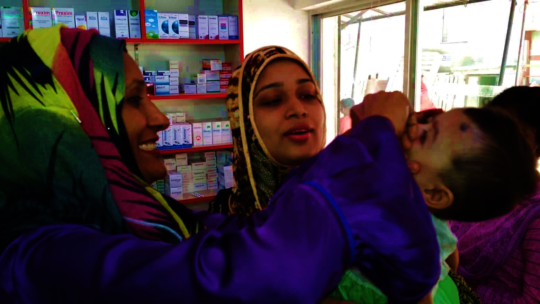 WARNING: Javascript is currently disabled or is not available in your browser. GlobalGiving makes extensive use of Javascript and will not function properly with Javascript disabled.
Please enable Javascript
and refresh this page.