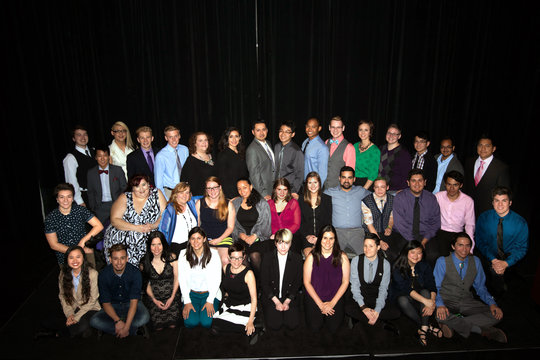 Mayor Ed Murray addressed over 500 business leaders gathering to make history at the Seattle Waterfront Marriott on May 15 when the Greater Seattle Business Association gave out $350,000 in scholarships to 48 LGBTQ and allied students, reaching the milestone of having awarded over two million dollars in scholarships since 1990. The evening also marked the 25th Anniversary of the GSBA Scholarship Fund.
The GSBA Scholarship Fund awards educational scholarships to undergraduate lesbian, gay, bisexual, transgender, queer (LGBTQ) and allied students, who exhibit leadership potential, demonstrate strong academic abilities and are actively involved in school and community organizations.
Scholars reflected a diverse group of students from across all of Washington state, pursuing a wide range of professions and with plans to positively impact their community. The GSBA Scholarship Fund supports the community by providing financial support, role-modeling and hope to outstanding lesbian, gay, bisexual, transgender, queer and allied students, many who have no traditional means of support.
"I found out yesterday that I received a GSBA scholarship", said Kelly, a three-time GSBA Scholar and current graduate student at Antioch University. "I just want you to know how grateful I am to the GSBA community. I have seriously struggled, and I feel thanks every day for the support and generosity I have received. I couldn't do it all without the incredible amount of support I've be blessed with."
The GSBA Scholarship Fund started in 1990 because of the great financial need of lesbian and gay students with no other means of support. These students, because of their sexual orientation, were often discriminated against in school, experienced bullying by their peers and may have lost family support. Some were even thrown out of their homes because of their sexual orientation. As a marginalized group, these students often could not receive financial aid from more traditional sources.
Over the years, the GSBA Scholarship Fund has expanded its reach and its mission. Scholarships are now available to students of any age who are Washington state residents. They may be LGBTQ themselves or come from families with gay or lesbian parents, or straight, allied students who are committed to working for civil rights in the LGBTQ community. In addition, scholarships have been extended to graduate school students if they have received funding from GSBA during their undergraduate education.
GSBA President & CEO Louise Chernin is proud to have a membership that understands the need for a highly skilled work force that also represents the diversity of our communities is of paramount importance if we are to meet the challenges of a complex and rapidly changing world. She says "There is great pride in GSBA that our founding members back in 1990, when they created the first LGBTQ scholarship fund in the U.S., had the vision to recognize the importance of investing in the next generation of leaders. Today, GSBA business leaders continue to understand that providing access, financial support and encouragement to a diverse group of talented students will prepare the next group of leaders to meet these challenges. Identifying and funding untapped talent and creating opportunities is what the GSBA Scholarship Fund has been successfully doing for students for the past twenty-five years."
Dozens of Microsoft employees volunteered their time to interview scholarship applications this year and for the fourth year in a row, Microsoft has donated $20k to award scholarships to students entering a STEM field. Other special purpose scholarships include the Chester Podlodowski Scholarship awarded to a first generation student, the Glenn Johnson & Michael Melancon Bright Horizons Scholarship for a student attending the University of Washington, and the Future Ribbon Scholarship awarded to a student whose field of study focuses on HIV/AIDS.
To date, the GSBA Scholarship Fund has awarded more than 500 scholarships totaling over $2 million dollars. GSBA scholarship awards range from $7,000 to $13,000 and provide significant support to students who often have little support from other sources. In addition to financial support, having the acceptance and encouragement from business and professional leaders provides LGBTQ and allied youth role models and the kind of validation important to all youth on the road to adulthood.
Links: