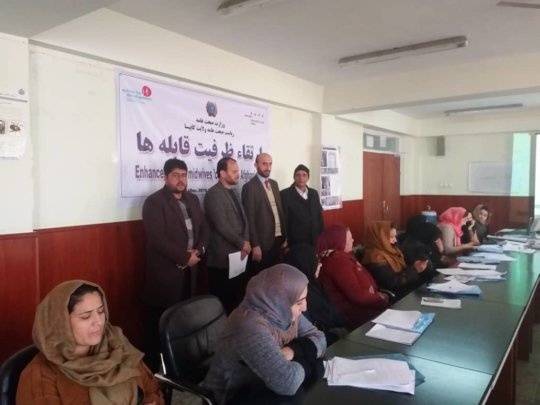 Action for Development has provided quality training to midwives in Afghanistan since 2014. The training modules are developed by Action for Development in collaboration with the Haute Ecole de Sante de Geneve – Departement de Sages-Femmes (Geneva Health School – Midwifery department); modules include: care of the newborn, eclampsia, pre-eclampsia, management of 3rdstage of labour and postpartum haemorrhage.
Each training program is provided over a period of about 2 weeks at a training centre located in the province. It involves both classroom-based learning and practical clinical experience; at the end of the training, midwifes sit an exam and receive a certificate recognized by the Ministry of Public Health of Afghanistan.
From the 7th to the 13th of December 2019, AfD provided training to 20 midwives selected in the province of Kapisa; following our cascade-model approach, these midwives will train an additional number of midwives in their communities, for an estimated total of 100 midwives trained in the province by the end of the year. The training included a two-day residency at the provincial hospital of Kapisa and it was officially recognized by the Ministry of Public Health.
On behalf of Action for Development, we would like to express our gratitude to our donors for their continued support, which makes the midwifery project possible. Action for Development intends on extending its programs throughout 2020 with the intent of supporting the most vulnerable communities of Afghanistan to achieve our vision of "healthy families, empowered communities".
With our warmest regards,
The Team at AfD
In 2005, the most recent year with data available for disability statistics in Afghanistan – approximately 2.7% of the population had severe disabilities and this jumped to 4.7% when less severe disabilities were also considered. Disability is highly stigmatized in Afghanistan, with disability bias accounting for why most children and especially girls with disabilities face exclusion and stigmatization. Because of these stigmas most children with disabilities in Afghanistan are not educated (USAID, 2018).
The founder of the Rahyab School for children with disabilities located in Kabul, Parwin Azimi (an expert of sign and Brail language, and the author of Afghanistan's sign dictionary) mentioned that over 75% of children with disabilities do not attend school. Lack of awareness and support at the country's decision-making level has lead to minimal infrastructure at health centres or schools for children with disabilities.
AfD is proud of its collaboration with the Rahyab School, where it supports education programmes for nearly 650 children with hearing impairment. In accordance with our organization's goal of "healthy families, empowered communities", we provide food for the children and their families as an incentive to allowing children to attend the school.
As we approach the end of the year, we would like to thank all our donors for their kind support and we hope for the year 2020 to continue supporting children's education in Afghanistan with your help!
Wishing you and your families a prosperous and healthy New Year,
The Team at AfD
Links: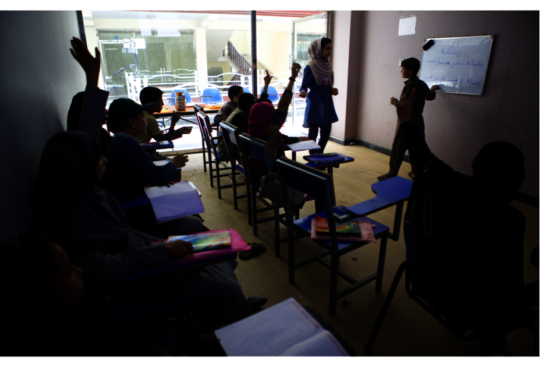 One of Action for Development's staff members from the Geneva office traveled to Afghanistan, in July 2019, to visit the office in Kabul and the education facilities for the "school for street-working children" project.
This is what she told us about her trip upon her return: "It was a pleasure and honour visiting the Kabul office and I would like to thank you for giving me such an opportunity. During my trip I was able to visit the school facility located in Kart-e -Char, comprising of 4 classes, and talked with teachers and students. All the classes had recently been decorated with colourful paintings and charts of numbers and letters. The commitment of the teachers and the enthusiasm and participation of the students gave me the impression of an environment of positive energy".
Kart-e-Char is a highly populated area and a commercial district of Kabul city; Action for Development's facility is located inside a business center, guaranteeing easy access to the children. The school is organized in four different rooms: one office space, two classes and the kitchen area, where a daily meal is served to all the children attending classes.
Given the high number of children attending school, classes are held both in the morning and in the afternoon; to accommodate the increasing number of children, Action for Development plans on expanding the school facility to include additional rooms; at the same time, we would like to improve the current facility with extra book shelves and the purchase of an electric generator.
We thank our donors for their generous support and we hope for continued support in order to provide marginalized children in Kabul the chance of attending school.
With our warmest regards,
The Team at AfD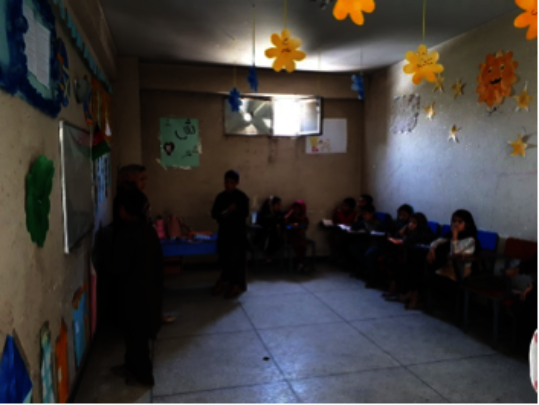 Links:
WARNING: Javascript is currently disabled or is not available in your browser. GlobalGiving makes extensive use of Javascript and will not function properly with Javascript disabled.
Please enable Javascript
and refresh this page.