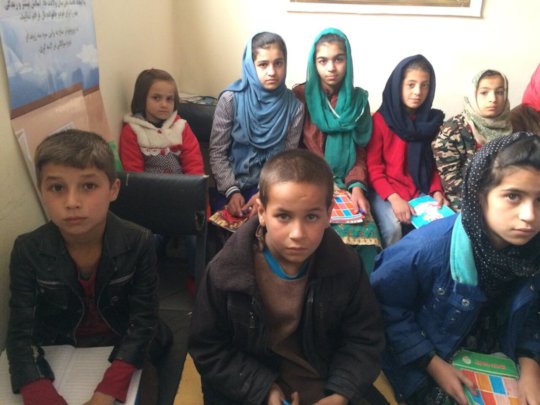 Back to school program
Afghanistan is one of the least developed countries in the world; it is estimated that in 2018, 54% of the population was living below the poverty line.
A country's poverty indicator is the presence of minors working on the streets. In Afghanistan, 29% of children aged 5 to 17 years old are engaged in child labour. In 2018, nearly half of all school-aged children were not attending school. This represents 3.7 million children, 60% of whom are girls.
The education of children and young adults, representing the men and women of tomorrow, is paramount for a sustainable and peaceful development of the country.
This is the context in which Action for Development founded, in 2016, the "School for street children" program, driven by the objective of giving children the opportunity of having access to education.
The program aims at providing marginalized children with access to flexible education, extinguishing inequality, poverty and child labour.
By attending the program's school, children are given the opportunity to learn basic numeracy and literacy skills, as well as to develop social abilities through for example practicing a sport, particularly football; it also enables them to have access to a regular schooling programme in the future. This program contributes to reducing the level of illiteracy among children in Afghanistan.
Children are selected for the program according to pre-defined criteria: being between the age of 5 and 15 years old, having no access to formal education, and originating from households with little or unstable income.
Since the beginning of the program in 2016, AfD has opened 3 education centres in Kabul, in 3 different districts:
- Kart-e-Char, 3rd District of Kabul: this is one of the biggest neighbourhoods of the city, where many children gather regularly to work; the first school was established in October 2016, with 12 children attending.
- Baburshah: located in the central area of Kabul, further classrooms were established to cater to the high number of street children.
- Khuja Buhgra District: afternoon classes are provided at AfD's local Health Center in addition to a daily meal. For many of the children attending these classes, it is the first and only meal of the day.
In addition to the schooling program, children can benefit from access to health services provided at AfD's Comprehensive Health Centre in Kabul.
In 2018, AfD's schooling program went from having enrolled 58 children to 201 children by the end of the year. At the Kart-e-Char's center alone, AfD was able to provide 16.566 meals to children.
2018 also witnessed the introduction of a sport program: a football field, dry and safe, dedicated for the children to train and play each week; a football coach was hired. An important objective of this programme is raising awareness on the benefits of regular physical activity for children; this would also allow communities to accept girls joining the sports program.
The schooling programme for 2018 at a glance:
3 schooling centres, 9 classrooms in total;
1 school coordinator, 5 teachers, 1 football coach, 1 cook;
201 children enrolled;
80 boys playing football regularly;
16.566 meals offered at the Kart-e-Char's center.
Children with disabilities
Parween Azimi, Founder of the school for children with disabilities:
"The students in our school learn how to use sign language and to communicate with their hands. The fact that people in the community are unable to use sign language, motivates the pupils to attend our school, since they can be in a place where they can be understood and understand others.
With a vocational training, children learn the necessary skills to become self-reliant in the future. It is difficult for persons with disabilities to find employment, even when having knowledge of English or computer science. Many organizations do not trust them because of their disability, in this particular case hearing loss. It is important for us to raise awareness among the community that young adults with disabilities can be capable of assuming regular job roles.
In the next 20 years, we should aim at giving all children of Afghanistan access to education".
Links: