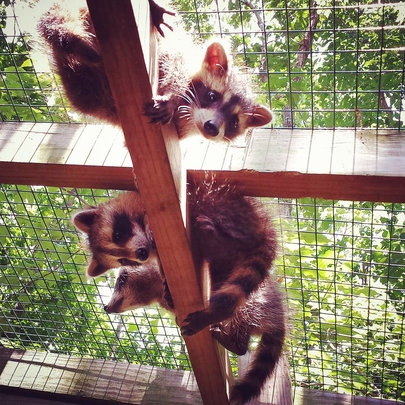 When a tiny bat was found outside an apartment building in Charlottesville, the little bat could not be reuinited with its mother. It was brought to Rockfish Wildlife Sanctuary, where rehabilitator Jessie Cole started the bat on fluids; then staff and volunteers fed the bat every two hours, day and night, to mimic conditions in the wild.
Our rehabilitators determined that it was a Brazilian free-tailed bat — common in the western United States, but never before recorded as living in Virginia. They contacted the Virginia Department of Game and Inland Fisheries, who sent an expert to try to determine if any free-tails lived where this little one was found. There was no evidence of an established free-tail bat population, so RWS coordinated its rescue efforts with renowned bat rehabilitator Leslie Sturges in Northern Virginia. Leslie is now raising this special visitor, and, when the little bat is ready to be released, will drive it out west to join larger populations of its species.
Raccoons are among the more common animals cared for at Rockfish Wildlife Sanctuary. When they are brought to RWS as babies, they have a relatively long length of stay. It is important that when they are old enough, the majority of their care be provided outdoors, so that the sounds and smells of the woods are comfortable and homey for them. Prior to being released into the wild, animals rehabbing at RWS spend weeks in outdoor enclosures, as these racoons are doing, enjoying natural space, air, light, and weather as they grow and heal.
The baby bat and juvenile racoons are just two stories of many with happy endings. You have helped RWS help a record number of animals in 2014. We've cared for over 750 orphaned and injured wildlife patients this year, a 20% increase over our previous record. Thank you for helping us achieve this growth!
The new Sanctuary building is complete. The occupancy permit has been issued, and the structure is beautiful. Next, the specialized outdoor enclosures for animal care and recuperation will be constructed to complete the project. Our plan is to complete construction of the enclosures over the winter and to be ready for the busy spring season in the new Rockfish Wildlife Sanctuary.
We have come a long way... and our goal is in sight! Support from GlobalGiving donors has been a real boost to our efforts, and we are very grateful. Thank you for your ongoing support at this exciting time.