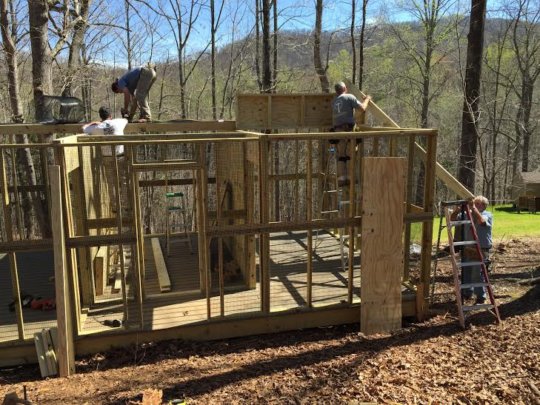 2015 was an eventful year for Rockfish Wildlife Sanctuary. Thanks to the support of many in the local community, as well as Global Giving donors, the new RWS Sanctuary building was completed in rural Nelson County, VA. It is all we dreamed of, and more. The animals are loving their new, more spacious enclosures, and the staff and volunteers are delighting in having a facility created for rehabilitation.
Additional enclosures will be created in 2016 to allow for care and rehabilitation of additional species of wildlife. The photo above shows volunteers from the Building Goodness Foundation working on the aviary, the largest of our new enclosures.
As we begin the New Year, we are remembering some of the special animals of 2015:
After being hit by a car, a 7.5 lb. yellow-bellied slider (a type of land and freshwater turtle) was successfully rehabilitated and released. This was very exciting for the RWS rehabilitators and volunteers, who had never seen a slider so large. Yellow-bellied sliders have been known to live 30 years or more in Virginia, and we are thankful that this turtle's life was not ended prematurely.
It was another good year with Wood Ducks which are normally very hard to rehabilitate. RWS released a group of 21 in August, and had another group of 6 that were released later. Adult Wood Ducks have beautiful markings and colors, yet can be hard to spot in the wild. They are cavity-nesters that prefer to live in wooded swamps and freshwater marshes.
RWS cared for eight orphaned red fox kits this year -- a record for us. All were successfully released. Foxes are onmivores. Their diet in the wild includes berries, plants, insects and small mammals. Foxes help to control the population of rodents by preying on rats and mice.
On June 20, a newborn squirrel arrived at the Sanctuary weighing only 18 gm.-- the weight of seven pennies! A staff member volunteered to take it home for the nighttime feedings that were required to give it a chance at survival. By August, the baby squirrel weighed 40 gm., and has since grown large enough to be released. Eastern Gray Squirrels can live any place with large deciduous trees -- from forests to backyards. They use tree cavities, or make nests of leaves, up high, in the crotch of tree limbs.
With thanks for your support in 2015 and best wishes for a wonderful New Year from your friends at Rockfish Wildlife Sanctuary!