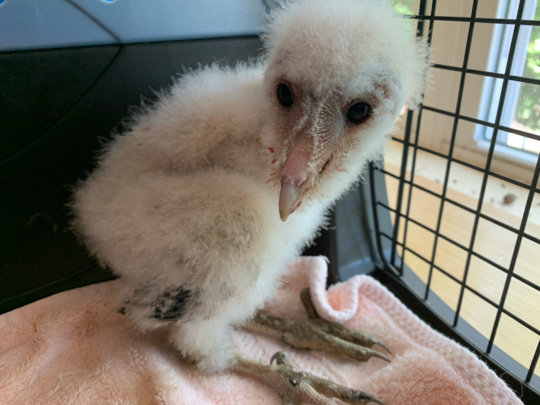 The sanctuary's 400th guest of the season arrived in conjunction with the arrival of summer! Baby birds and fledglings have taken over the nursery, replacing the foxes, squirrels, opossums, and raccoons of this crazy spring. The feeding timer now goes off every 30 minutes and has begun to rule the day, dictating the timing of everything else. The biggest surprise of the season so far has been the arrival of 6 baby barn owlets - not a species we see a lot! And while the adults are simply gorgeous, the owlets give new meaning to the adage "a face only a mother could love" :) yet they grow fluffier and cuter each day. Our raccoon babies have grown as well and have left the nursery, moving into either transition hutches or larger enclosures in the woods. With over 30 raccoon babies (so far!) to house and care for, our late spring project was to place new concrete floors in the outdoor enclosures - almost 8000lbs of concrete was hauled, mixed, and placed in the enclosures! Moving the raccoons to the outdoor enclosures leaves room in the nursery for the skunks that have begun to arrive. Our spring squirrel and opossum guests continue to grow and have been mostly released back into the wild. Watching them go is the reward for the long days of cleaning poop, feeding, and caring for them!
With Covid-19 causing our volunteer support base to be suspended it has been a challenging season in so many new ways. But we have adapted well and continue to provide care to all the babies that come our way - for while the human world has changed greatly, the animal world continues as always and still needs our help. Please help us help them.
Links:
The winter has been a time of recharging the spirit as well as the facility. The lack of critters to care for allows us the time to fix and repair the facility so as to be ready for the next season onslaught of babies! It's a time to laugh and enjoy each other in a way different from the day to daycare and nurturing of the babies in our charge. This winter season was spent on numerous projects both long in plans/hopes and necessary repairs to make us ready for the next season! Projects of note this year include: a retaining wall to prevent the constant erosion into our parking lot. Relocating our transition hutches (babies going from the nursery to a first step larger enclosure) to a single area, along a path - making a much easier organizational grouping for our interns and volunteers to deal with. And building a new bat enclosure to accommodate and not have to ship out our bat babies! While it may be quiet of baby noises, the sanctuary is never quiet inactive - it's just a different vibe still focused on a single goal - rehabilitate wild animals!!! And toward that end - while we were in the midst of our yearly baby pool, deciding/picking the date of the first baby arrival - which has traditionally been a squirrel, so it's called the squirrel pool - but nature has decided, in its "hey, not your categorizable way" that our first baby would be an eyes still closed baby red fox! We all lose the pool! But he's here and he's beautiful and he's doing well, so Happy Almost Spring to All!! Ours has now officially started and it's off we go ....
Links:
It has been another busy/crazy/fun summer at the Sanctuary! And thankfully we are in full wind down and catch up mode. Our only overwintering patient (besides our education animals of course) is a single bluejay that needs to regrow some flight feathers. While the summer was a full one, with many more guests than last year - the numbers just keep growing - it was also a very rewarding one with so many successful releases. Our fox contingent this year was above average in all respects and the successful release of these animals is just so heartwarming - I mean, who doesn't like an amazingly cute and charismatic little red canine!
Our rehabilitators switch gears a bit this time of year and the focus shifts to educational outreach programs - visiting schools and events with our education animals, talking to people about them and explaining how best to get help for them (or any wild animal) when and if necessary. It is a fun and rewarding time of year as well. Now also comes the upkeep time of the year, as well as the planning for next year's busy season. Both indoor and outdoor enclosures are being cleaned and repaired to be ready to receive more guests. Thanks to a recent grant we will also be constructing a new Bat enclosure/flight cage so that we will be able to care for these wonderful creatures inhouse for a change!
While less actual animal nurturing is happening - it's a time to recharge, share some education and nurture the facility and rehabilitators, all to be better prepared for next season's guests.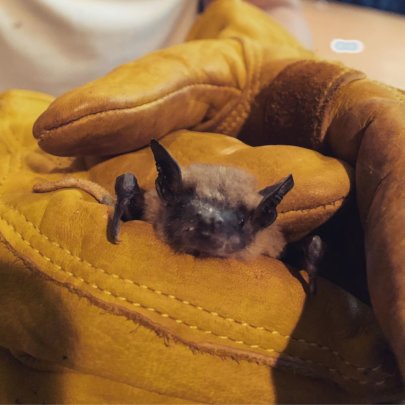 Links:
WARNING: Javascript is currently disabled or is not available in your browser. GlobalGiving makes extensive use of Javascript and will not function properly with Javascript disabled.
Please enable Javascript
and refresh this page.