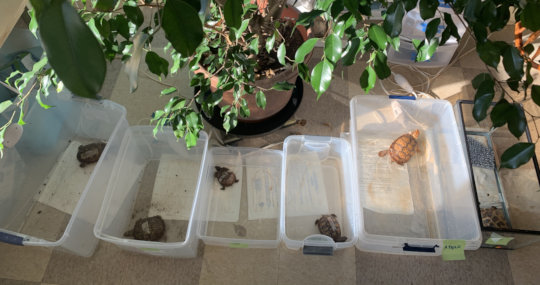 Winter in the sanctuary is generally a time to catch our breath, especially given the summer of COVID-19 and a lack of volunteers to help with the season's babies! This year, the curveballs kept coming, along with the many lists of enclosures to fix, repair, and clean to prepare for spring baby season. In one unexpected turn of events, we transformed our nursery into a "Reptile Room" to take in some overflow injured woodland box turtles that needed an overwintering space. Nine turtles have spent the winter in our spa, where they enjoy thrice-weekly hydrating baths and gourmet meals (raspberries in winter!) while awaiting their upcoming summer release.
When not attending to our turtle guests, other projects included constructing a multi-level snake enclosure for our education ambassador, Teeny Nagini. Teeny is an eastern ratsnake, and he measures in at a whopping 7 feet long! It was time for him to upgrade from the enclosure he had arrived into a more spacious and enriching environment. Teeny's new home is about four times the size of his old home. It features a variety of new, exciting substrates for him to slither across as well as four separate "floors." But there are no elevators here - Teeny gets to use a custom-built wooden climbing gym to explore the many levels of his new space. We're pretty sure we saw Teeny smile when he moved in!
Our next big project is to repair and expand our three existing fox enclosures. Our fox enclosures have weathered many busy baby seasons with us, but they're showing signs of age. Whether it's warped doors, ripped wire mesh, or over-loved enrichment features, these enclosures could use some TLC. In fact, tending to these fox enclosures is our biggest priority going into the rest of winter here at RWS. That's because red fox kits seem to be arriving sooner and sooner every year. Last season's very first baby was a tiny 100-gram red fox kit that arrived at the end of February! Foxes grow fast and spend little time in the nursery, so they are moved to enclosures relatively quickly. We can have over fifteen fox patients in rehabilitative care at a time, and they each need plenty of space to grow up in and explore with their littermates. Considering that we are one of the only facilities that rehabilitate foxes in Virginia, we are anticipating yet another season filled with fox patients. Thus, we are hoping to build another enclosure before the baby season hits. Our goal is to raise $2500, which will be matched by a generous anonymous donor. This will allow construction to begin before our baby season kicks off. Anything you can do to help will be greatly appreciated by staff and foxes!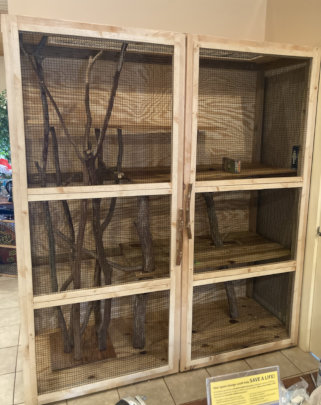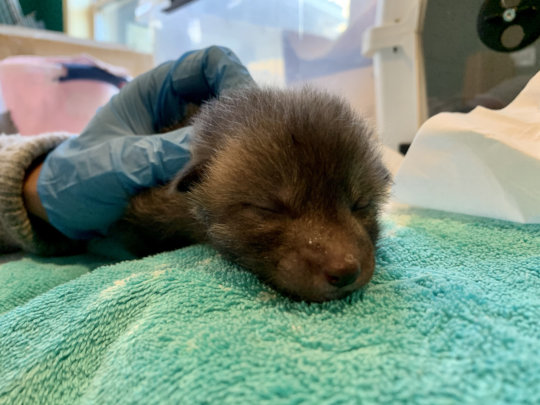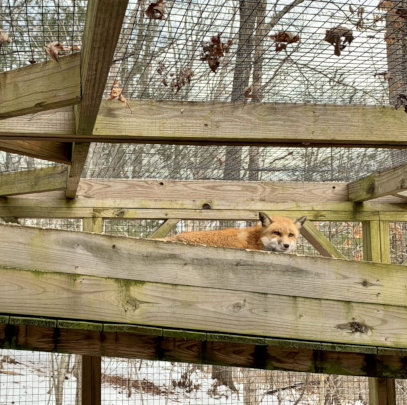 I remember my mother saying that to me constantly growing up (reminding me to close the door), and it was the first thought that came to me when our barn owlet patients arrived this summer. My second thought was, "Wow, barn owls are not the most attractive of all the babies we get to care for and rehabilitate!" But they sure grew to be some of the most amazing and beautiful creatures we've ever seen. Our owlets arrived after a nearby resident awoke to find them simply sitting in her fireplace one morning. They'd likely fallen down her chimney. Because re-nesting was not an option (no parent was seen), the owlets were brought to us so we could become their surrogate parents. Feeding and caring for these little guys required a bit of extra effort to prevent them from becoming habituated to humans. Their nursery set-up was covered so that they had no views of the daily activity happening around them, and we were totally silent to avoid them getting accustomed to human voices. At feeding times, our staff would completely cover their faces to avoid any human "imprinting." To achieve this, we wore two surgical facemasks with a slight gap that allowed us to see down between them. We wore this goofy get-up to feed them their daily quota of chopped up mouse bits – which was a LOT of mice for a growing owl! The four of them averaged between fifteen and twenty mice per day for about six weeks, with their feeding schedule starting at six times per day and decreasing to three as they graduated from our nursery into a flight enclosure. That's a long time to work with your whole face covered! After just about two months, our owlets were nearly fully-fledged owls. It was time for their final pre-release test: "Mouse School." That's where we introduce live mice to a raptor patient's flight enclosure to make sure they can successfully hunt and catch their food before they are released back into the wild. All four of our owls passed with flying colors! After two and half months of care at RWS, we successfully released them on private properties where there were unused barn structures – this was a necessity since barn owl feathers are not very waterproof. They are now out soaring in the wild world as they were meant to be, and we were proud and excited to care for barn owlets at RWS for the first time in our center's history. So no, while I don't live in a barn, I'm really glad these owls do!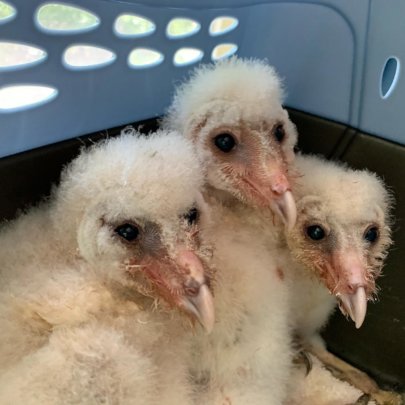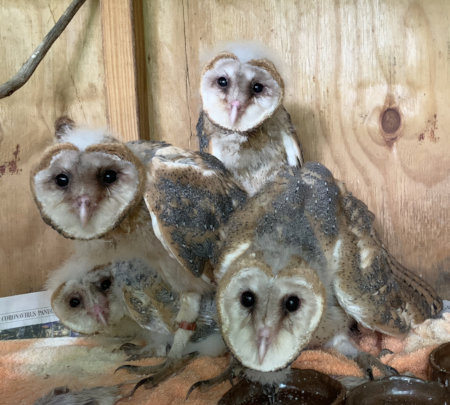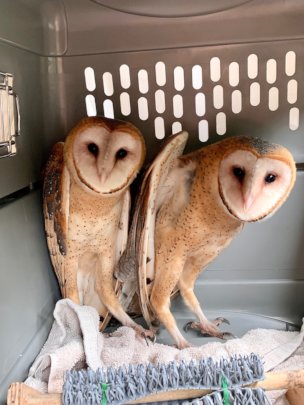 Links: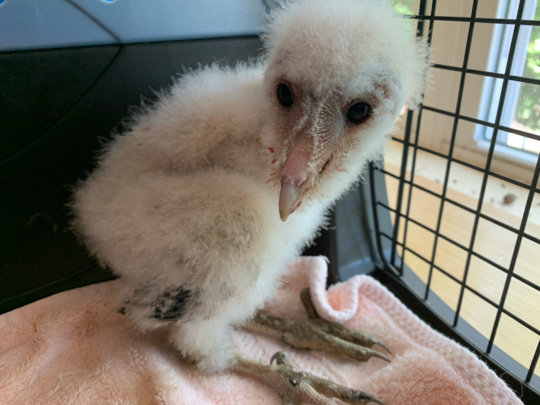 The sanctuary's 400th guest of the season arrived in conjunction with the arrival of summer! Baby birds and fledglings have taken over the nursery, replacing the foxes, squirrels, opossums, and raccoons of this crazy spring. The feeding timer now goes off every 30 minutes and has begun to rule the day, dictating the timing of everything else. The biggest surprise of the season so far has been the arrival of 6 baby barn owlets - not a species we see a lot! And while the adults are simply gorgeous, the owlets give new meaning to the adage "a face only a mother could love" :) yet they grow fluffier and cuter each day. Our raccoon babies have grown as well and have left the nursery, moving into either transition hutches or larger enclosures in the woods. With over 30 raccoon babies (so far!) to house and care for, our late spring project was to place new concrete floors in the outdoor enclosures - almost 8000lbs of concrete was hauled, mixed, and placed in the enclosures! Moving the raccoons to the outdoor enclosures leaves room in the nursery for the skunks that have begun to arrive. Our spring squirrel and opossum guests continue to grow and have been mostly released back into the wild. Watching them go is the reward for the long days of cleaning poop, feeding, and caring for them!
With Covid-19 causing our volunteer support base to be suspended it has been a challenging season in so many new ways. But we have adapted well and continue to provide care to all the babies that come our way - for while the human world has changed greatly, the animal world continues as always and still needs our help. Please help us help them.
Links:
WARNING: Javascript is currently disabled or is not available in your browser. GlobalGiving makes extensive use of Javascript and will not function properly with Javascript disabled.
Please enable Javascript
and refresh this page.