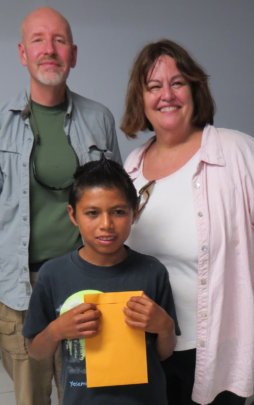 Jorge's journey to take full advantage of the Costa Rican educational system continues as he moves into the 6th Grade in 2016, shown here with generous CAA Members Robert Carr and Lorca Warner. This is Jorge's last year in elementary before moving into high school next year. He was one of 23 lucky students, 13 elementary and 10 high school, to be awarded CAA educational scholarships last week, just in time to get the uniforms, shoes and school supplies required to start classes on February 8th.
For some students like Jorge, the period between early December through February 8, and most weekends were spent with other family members climbing the coffee farms in the local mountains, baskets loaded with picked coffee beans. Their holidays were not spent playing with new toys or video games, because coffee season is one of the only times that the family can earn extra money for the year. This year has been tougher than last, because Jorge's father has a medical condition that limited him to part-time work, although he, too, is in the coffee fields doing what he can while the beans are red and ripe for picking.
But despite the hard work in the coffee fields, Jorge also brought his family some wonderful news when his report card arrived back in December---he scored in the 90's on all his courses. This confirms Jorge's motivation to keep up with his studies while helping his family.
After getting their vouchers, the students and families went to the 3 participating merchants to exchange their vouchers for shoes, uniforms, and school supplies. And, to insure that the program was getting good value in the marketplace, we conducted a market basket analysis of uniform selection, quality, and prices in early January. The analysis identified a merchant with multiple locations in town that was able to offer the same or higher level of quality, better selection and price on required school uniforms. We should be able to provide almost 15% more uniforms for the same dollars.Even better, the pants were locally-made, providing local jobs, and have a 1 year guarantee. As an added bonus, we were able to teach our university student intern, studying to be a social-worker, how to conduct a solid market-basket pricing survey and compile the results. This term, we will provide almost $4500 in school supplies/uniforms, and supporters through Global Giving provided about half of that funding, so thank you one and all.
It is important to know that education is not mandatory in Costa Rica after completing the 6th grade. Therefore, many academically successful students drop out after elementary school because the expenses associated with high school are higher than for elementary, and the lure of an extra worker in the fields is very strong. This is a very critical time in the educational paths of these kids and the time for extra vigilence.
At the awards ceremony on the 23rd, several mothers and fathers stood to send blessings to all those that helped support these families. Those words of appreciation, the smiles and thankful hugs from the students and parents, made for a very heartwarming morning.
The CAA Education Committee members also send our thanks to our fabulous Global Giving supporters. We will need to raise more money for the Second School Term, but with this great start, we feel confident that we will be ready to help these kids again in July. Education is the key to the future for children like Jorge and their families; and with your continued support, we can keep that vision alive. Bless you all.
Community Action Alliance, Education Committee