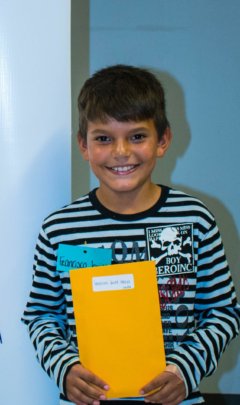 On July 16th, the CAA Education Committee presented Educational Scholarship vouchers to 23 worthy students to get these students ready for the second term of the school year. This term's recipients included 14 elementary students, 9 high school students, and 1 University of Costa Rica student serving as the scholarship program administrator Intern. This term's awards represent an investment of almost 1,750, 000 colones (about $3,200 USD) to buy the shoes, uniforms, and school supplies that help keep these students in school.
The theme of this session was student leadership development, citizen responsibility, and giving back through volunteerism.
Our program administrator Intern, lead a group activity to identify and focus on personal goals: Each of the students had the opportunity to introduce themselves, state their academic and personal development goals, and to identify their favorite activity. It is no secret in Costa Rica that soccer is the national sport, so it was no surprise that soccer was the favorite activity. However, one young woman reported that working with computers was her passion - a student that is willing to break away from the pack!
And, to encourage leadership among our high school scholarship students, FRR also challenged these students to examine the importance of water in their daily lives, and identify opportunities for citizens to prepare for an increasingly drought-impacted Central America. This challenge was introduced in an earlier June session, and the student panel reported their findings at the Awards Presentation on the 16th.
The student panel identified the important role of forests in protecting our natural water resource-production areas; proper waste disposal and recycling; and healthy eating choices that reduce the impact of cattle as a source of pollution, erosion, and as a driver of the conversion of forests into pastures.
Additionally, the students identified the need for improved awareness of the impact of trash and waste management on communities and the quality of water resources; the need for more training on water conservation practices around the home and in agriculture; and the impact of agro-chemical use as a contaminant of surface and ground water/general health.
In summary, the panel recognized that Costa Rica's historical water abundance situation is changing, and citizens and the government must take action to more carefully manage water resources over the coming decades. And, introducing this topic to elementary students at a young level was suggested as the way to build awareness and gradually change wasteful and destructive practices.
JF, CAA Education Committee Volunteer and licensed social worker, engaged the students on the importance of adopting a culture of volunteerism – to identify opportunities to grow and develop personal leadership skills through volunteer activities. If they do, these students will be better prepared to become productive citizens, stand out in the job market, and provide benefits to the community. The help that is being provided to these students through the CAA organization comes with expectations - those receiving help now should make the time to volunteer and help others in the future. In response to Johanna's comments, a number of parents voiced their support for encouraging youngsters and parents to volunteer for the benefit of the community, and thanked the CAA for the support.
Additionally, the Committee identified 9 students, mostly female, who are very interested in mathematics. To encourage these students to continue their interest in math and science, the Committee wants to offer an additional recognition for excellence in these STEM subject areas at the 2017 awards presentation. STEM prepared students are in demand in the job market, and encouraging young women to pursue these non-traditional academic paths/careers could provide an economic bridge to help the family out of poverty.
You hold the keys! This CAA educational support program would not be possible without the generous contributions of donors through Global Giving, and CAA Committee Member volunteers who raise funds locally. Working together, we can continue to make a difference here in San Ramon, Costa Rica, one student at a time.