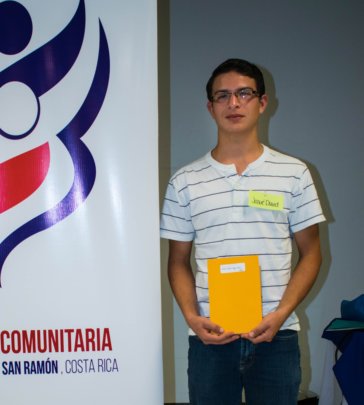 All 23 of the CAA Educational Scholarship students are working hard as they approach the last 8 weeks of the 2016 school year, but our spotlight today is on a quiet, determined 12th grade student who was raised in the coffee producing mountains west of San Ramon.
Josué (Joshua) finishes the 12 grade this December, and is preparing to take his Bachellerato Tests necessary to get his diploma. Gaining a high school diploma will be a first for the family, and Josué and his sister, also in high school, have been encouraged by their parents who are also taking courses after work to get their own high school diplomas. Both parents dropped out of school many years ago, as was customary then, in order to work the coffee fields and raise a family. In fact, in Josué's rural pueblo, only a handful of the parents of students now of high school age progressed beyond the 6th or 8th grade, and only two actually completed high school. So, for this family, earning a high school diploma is a very big deal!
Josué and his family have faced numerous challenges during his high school years --- the family lost their home and all its furnishings in a fire a few years ago, and it took a concerted family effort to recover from that loss. We were able to help Josué replace his laptop, but this fire was devastating and disrupted his school work.
And, like many students expected to already know some English as a second language before entering high school, Josué struggled because his rural elementary school did not have an English instructor. With the help of local English-speaking tutors including CAA volunteers, Josué has been able to progress to the final Bachellerato tests in November.
And, Josué's preparation was not just limited to studying in high school---he also works many weekends to support his education and family, and he participates in a young adult leadership group in San Ramon based on recommendations from high school officials.
We wish Josué success with his tests and achieving that diploma. Hopefully, it will open the door to university studies, or a promising career.
This also is a milestone to celebrate for the CAA Educational Scholarship program. Josué is the first of our CAA scholarship program student to be able to reach for that diploma. Looking forward to 2018, three more CAA students will likely stand at the same point, sweating out their Bachillerato Tests, and, hopefully, marching forward to receive a high school diploma.
We share this success story with you, our generous Global Giving supporters. Your gifts helped to prepare Josué to get this diploma, and with your continued support, more students will have the opportunity to achieve the same. By working together, we are making a difference, one student at a time.