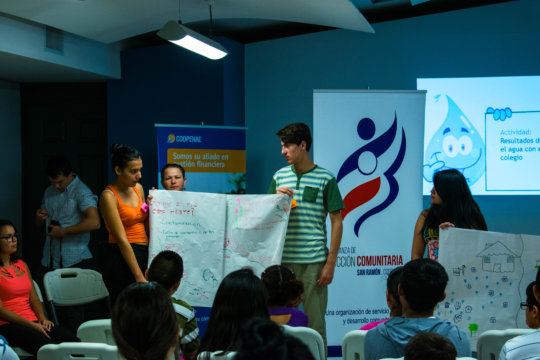 Nothing excited our 23 scholarship students more in early December than finishing the term and focusing on Christmas holidays with a 2 month break from school. For a number of these students, Chirstmas vacation included a daily ritutual of helping the family pick coffee in the mountians all around San Ramon, not exactly a vacation. But, first we thought it important that students and their families reflect on the academic achievements and challenges of the past year, and to identify the necessary steps to exceed those academic levels in the coming year. To accomplish this, we organized a half-day counseling and workshop for December 10th aimed to keep these students focused on continued growth in 2017.
With the help of our 5 volunteer university social workers, and under the direction of our licensed volunteer social worker, JF, we sat down with the mothers or fathers of the scholarship students to review last year's grades hoping to identify academic, attendance, conduct, or special need issues that we could help improve. While the parent interviews were being conducted, University of Costa Rica 3rd-4th year social worker students engaged the scholarship students in a workshop emphasizing the importance of Positive Values and Giving Back through Volunteerism.
For some parents, this discussion was the first focused review and discussion of their child's academic record, and it allowed for a candid discussion with trained social workers about their child's progress. In some cases, the parent had not even reviewed the grades much less discussed them with the child! These interviews identified 3 students that will require closer monitoring and family intervention during the next school term - to change behaviors that are impacting academic progress. And, we identified 2 others with vision problems that need special eyeglasses.
In the case of one very athletic high school student whose grades had fallen over the second term of 2016, the interview identified that the student had been misinformed by other students that he would be able to get a university scholarship based solely on his athletic strengths, and it didn't really matter about his mediocre academic record. After a prolonged discussion with JF, a social worker and a former university admissions and financial assistance advisor, the student and his mother came to understand that without a strong academic record, even a good athlete would not hope to get into Costa Rica's public universities, much less get government financial assistance. Hopefully, this discussion, and some first term scheduled follow-up counseling sessions in March and April, will enable this student to refocus on both his academics and his athletics and get back on course in 2017.
With the help of some capable volunteers, the CAA Education Committee applauded the academic success of the vast majority of our students, and identified 3 students that will require closer monitoring of progress to get back on course.
It really does take a village to successfully raise and educate a child - and without these dedicated social worker volunteers and your financial help through Global Giving, some of these students would slip through the cracks and drop out of school. We send our special thanks to all of you who continue to be members of our extended village!