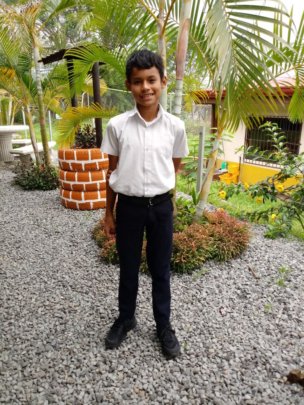 Our social worker university intern has provided an update regarding the young 6th grade elementary CAA scholarship program student, a student that I will call "Oscar", that we reported on 90 days ago. "Oscar" is a very bright young student who has some real academic potential if he can just get a bit of help from his less than supportive mother, and from the community.
As you may recall from that last report, "Oscar's" father had been killed years ago in a drug shootout, and "Oscar's" mother had relocated to San Ramon to try to escape her past and find a better life for her 5 children. After struggling for many years, "Oscar's" mother had decided she needed to try to relocate the family to Nicaragua to escape some very persistent and dangerous drug traffickers in the barrio. So, 90 days ago, our CAA Education Committee members were reluctantly having to say goodbye to "Oscar" as he prepared to leave Costa Rica and the CAA scholarship program.
It now appears that "Oscar's" family is not going to leave for Nicaragua, and "Oscar" may be able to continue his schooling here. However, the home environment for Oscar and his 3 younger brothers and sister, is still very fragil, with the influence of drugs and drug dealers all through the neighborhood. "Oscar's" mother is pulled every day to rejoin her former life distributing drugs, and dangerous men are always around the house.
But, "Oscar" and his siblings now have some allies -- two social workers and a school psychologist, who are hopeful that their continued intervention with "Oscar" and his mother will finally get the family rehabilitated and in a better position. In fact, they have alerted the child welfare agency, PANI, of the circumstances of these children, and PANI is pushing hard for the mother and the children to leave the immediate neighborhood to escape this environment of drug trafficking. "Oscar" and his mother are both participating in counseling now, and the social workers are hopeful that "Oscar's" mother will finally eliminate her destructive behaviors, and start focusing on the needs of her children. "Oscar's" mother knows that she is very close to losing custody of her children if she does not quickly make a dramatic change of course.
And, the social workers and our CAA program interns are working to find "Oscar" a secondary school location away from his barrio that will allow him to escape the pervasive culture of drugs and violence that pulls in so many victims of his age. Thanks to the dedication of these professionals, "Oscar" may get to enroll in 7th grade, in a San Ramon area secondary school in another location, in January of 2018, Hopefully, this will give him a good start on his high school education.
Unfortunately, "Oscar's" story is repeated over and over, throughout the world --but, because of some timely intervention, perhaps "Oscar" will beat the odds and get to complete his high school education, and go on to be able to provide hope for some economic security for his family. With education, there can be hope, and a solid education can provide the means to secure a better future!
Let's all keep working for "Oscar" and give him the strength to pursue his educational goals and be a role model for the rest of his family.
By sharing this update with our GlobalGiving supporters, we hope to let you know that your financial assistance is making a difference, one "Oscar" at a time. Thanks you for your generous support for "Oscar" and his fellow CAA scholarship program participants. Their education depends on your continuing support.