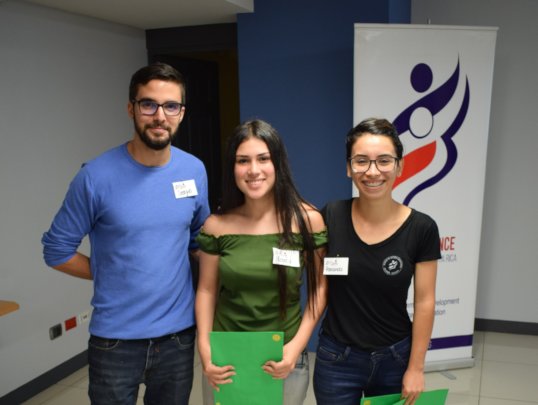 On January 25, 2019, the Community Action Alliance's Education Committee presented scholarship vouchers for school year 2019 to twenty-seven students. The class includes one 5th year University student of Social Work, serving as a Program Administrator Intern, and 26 sixth through eleventh graders. We welcomed 6 new students into the 2019 scholarship class, one entering eleventh-grade and five sixth-grade students.
At the awards event, we were pleased to recognize and congratulate our three December 2018 high school graduates – each representing the first high school graduate in the family! Two of the three will pursue university study and one is enrolled in English classes. Each of the graduates received a voucher redeemable for books at a local book store.
Additionally, we recognized six high academic achievers for year 2018 for earning GPA's of at least 94; and one additional student, now in his 7th year in the scholarship program, received a meritorious improvement award for earning a GPA of 91. All seven students received a voucher redeemable for books.
Not all of our students hit these high marks for we had to drop one student for continued failing grades, however, the remaining classmates and their families appear to understand the importance of education as a strong foundation for future success and want to work hard to take advantage of this opportunity.
As you may recall from our last report, many students saw limited class time last fall because of the near-nationwide teacher's strike. Because of this strike, the Education Ministry identified about 250 specific foundational topics that were missed, and each topic must be included as extra instruction this year. Hopefully, our scholarship students will be able to take this additional load in stride.
During this strike period, to keep the students focused during their "involuntary vacation", one CAA member organized and provided special English Conversation Classes for our scholarship students — over a dozen students participated in these classes to improve their conversational abilities. Students reported the sessions to be both informative and fun!
This school term, the students received vouchers and assistance of over $6,000 dollars, redeemable for school supplies, shoes, and required school uniforms at our four participating local merchants. Additionally, we identified six extra-special need students for additional, periodic assistance during the school year, and one student that required new prescription glasses. For school year 2019, we expect to provide almost $10,500 in direct educational support for students in San Ramon, Costa Rica.
This level of educational support would not be possible without the generosity of donors through Global Giving, and through the additional work of our volunteers and supporters. An investment in education is a real life-changer for these students and families desperately looking for a brighter future - your investment now is an investment for life!