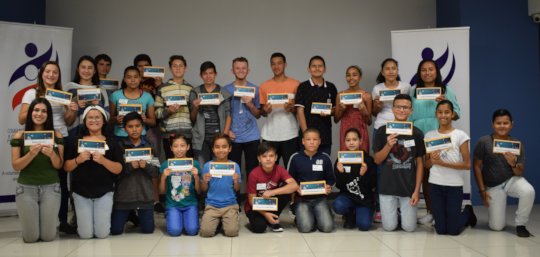 The Costa Rica school year has just finished, and we are pleased that 4 of our scholarship students crossed the stage and received a high school diploma. In the next 10 days, our CAA volunteer social workers will conduct student and family interviews reviewing report cards, academic progress, and socio-economic status to determine the eligibility of our remaining students to continue in the program for school year 2020. We have seven newly nominated students to evaluate for eligibility, and we have at least four slots due to graduations.
2019 Financials: The Community Action Alliance (CAA) scholarship program paid 7.8 million colones ($13,647) for school supplies, shoes, uniforms, and special needs assistance for our 28 participating students in the period. And, considering the greater than 10% average discounts negotiated with our participating merchants, the students actually received over $15,000 worth of school related supplies/uniforms. CAA takes pride in the fact that 100% of donations received were spent for direct assistance to students, and $142 was spent from locally generated funds for awards event presentation expenses. Additionally, excess funds are invested in short or mid-term duration certificates of deposit to generate additional interest earnings. The Education Committee has approved a budget of up to $15,000 for the scholarship program for 2020. Program financials are reviewed by an internal volunteer US licensed CPA, and by an external, volunteer Costa Rican licensed CPA for compliance with Costa Rica regulations. We are fortunate to have the support of these volunteer CPA's.
Given our resources and volunteers, we have purposefully limited our student participation to less than 30 students, enabling our volunteers to get much better acquainted with the students and their families, thereby allowing for more personalized assistance/intervention as needed. As a reminder, Costa Rica mandates schooling for children only through the 6th grade – therefore, student and family motivation, and often CAA scholarship support, is critical if the student will be allowed the opportunity to move into and graduate high school. We recognize that students and families face a difficult decision --- send the adolescent to go work in the fields or find a job to help the family; or to sign up for high school and try to get through to graduation. Therefore, 5th, 6th, the last two years of elementary school, and the 7th, and 8th grades, the first two years of high school, are pivotal for most of our young students and their families. For this reason, we focus our attention on these students and try to encourage the families to commit to the pursuit of a high school education.
Costa Rica offers financial education assistance programs for needy families, but only if the student is a Costa Rican citizen -- all others must rely on private assistance. And, even for citizen families that are eligible and receive government education cash assistance for their children, some of these families re-direct the education allowance to meet other family needs -- therefore, despite the government assistance, the student may still not have the required school materials, uniforms, and shoes necessary to attend public classes. That is the key reason that our program was designed to provide the required school supplies, uniforms, shoes, and other support via vouchers.
Some other key components of our program:
Selection and continued student participation in the program depends on the family's need for assistance with school materials, uniforms, shoes, and the student must maintain his/her grades and solid class attendance. Failing these, the student may be dropped from the program or placed on an academic watch list triggering greater monitoring with the student's teachers/counselors.
Program volunteers must work closely with public school teacher and counselors, who alert us to issues that warrant attention --- this is the key role of our licensed volunteer social worker--only licensed social workers are authorized to obtain information from teachers/schools about students and their issues; without them, our program would be almost one dimensional -- limited to providing only funding.
Additionally, our volunteer social worker and our university-level scholarship program administrator intern (degree in Social Work) help us stay connected with the needs of the students during the year -- our October 28 report illustrates a situation where timely intervention with mental health therapy helped get a threatened student, "Maria", back into school and continuing her education. We continue to support "Maria"'s needs for periodic mental health counseling and are pleased that she was able to finish the school year.
We use the CAA Scholarship Program to provide real world experience for University of Costa Rica Trabajadores de Social students by recruiting them to assist in our activities and evaluations---under the guidance of a retired, licensed volunteer Social Worker. Hopefully, these students will be better equipped for their chosen vocation through this experience, and our scholarship students get to see role models to encourage them to continue their higher education.
Our volunteers encourage continuing education after high school by offering 10th-12th grade students yearly information sessions to identify university and technical school opportunities, admission and financial aid requirements, and career advice in an effort to support these students to the next level—whether it is university or technical school. Career advice and planning information is tough for students to locate in Costa Rica--we hope we are helping bridge this information gap through these sessions.
This year, we are especially thankful that the public teacher's union elected not to repeat their 4+ month strike of 2018; allowing the students to get in a full year of classes, even though many students and teachers had to add extra work to catch up for the course materials missed due to the 2018 strike. Many of our 2018 graduating students reported that they struggled with university entrance exams partly because of the material that they missed because of the strike.
Our partnering merchants recognize the value of this program and provide discounted pricing of school supplies; and they help us ensure that students redeem their vouchers (not cash) only on legitimate, approved school-related needs. Occasionally, one of our merchants will call to advise that a student's parent is requesting to use a student's voucher to buy the parent a cell phone, or another non-essential item that will not directly benefit the student. Of course, the answer is "No". It does take a village to help keep this program focused on making sure that students get the opportunity to stay in school, and that program assistance goes to the intended use.
Education offers the opportunity to change the economic future of these families, and each student that graduates high school or goes on to university is setting an example for other children in the family; each of our scholarship students have the opportunity to be a role model to generate pride and hope in siblings and to their parents. Most parents of our participating students only dreamed of their child getting through high school, much less into university studies.
In this season of thanks and giving, we especially want to thank our supporters who donate through GlobalGiving Foundation, our other sponsoring non-profit, and our fund-raising friends and family partners in Texas. Lastly, this program would not be possible or as effective without our local San Ramon, Costa Rica, volunteers who help run the scholarship program, and also coordinate local English and Spanish Conversation Club programs to foster education in the community, which also earns local funds for the scholarship program.
By working together, being good stewards of available funding, and leveraging CAA volunteers and university students, we hope we can continue to make a difference in the lives and economic opportunities of these students from families struggling with poverty.
We wish all of our supporters a safe, happy, and peaceful holiday season.