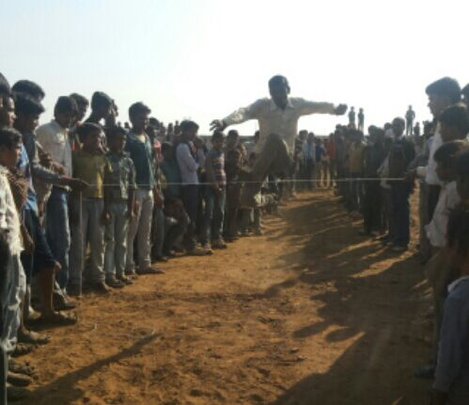 Thank you again for your help to the Adharshila School. The fund transfer from Global Giving to us has only come through to us recently, and we're very excited about using the funds raised to start 2 new schools.
The 2 new schools will be set up in 2 tribal villages called Paira and Agraa. The schools will become operational with the start of the new academic year in April 2014. This will bring at least 110 new children into the direc ambit of Adharshila's activities.
Paira is a tribal village in which not many children attend the local primary school regularly. The village has more than 200 children in the 4-15 age group, and we hope to bring at least 55 of these to school from April 2014. Like in the other Adharshila village schools, we will place two young teachers at the government primary school building in village Paira. These teachers will conduct classes during regular school hours, either with or without the assistance of the government school teachers.
The other school will be started in village Agraa. Children from Agraa's tribal settlement have a very low school attendance rate. This is despite the presence of government schools here. The main reason cited by the local Adivasi community is that the children and parents do not prefer to attend schools with a mixed population including children from upper caste families, due to village power dynamics. Using funds donated generously by you, we will hold special classes for tribal children within their settlement every evening in a friendly, familiar and non-intimidating environment. Through this, within a year, we hope to improve their enrolment and attendance in formal schools.
Using funds donated for sports and other activities, an inter-school Sports Meet was held at Adharshila on 14 December. In all 22 gold medals were at stake. It was a day-long event and all the participants were provided with lunch boxes. Around 600 children from 29 schools other than Adharshila came to participate in the event. The winners were given medals and certificates. The accompanying teachers were also given encouragement gifts. The travel expenses of all participating schools were borne by Adharshila.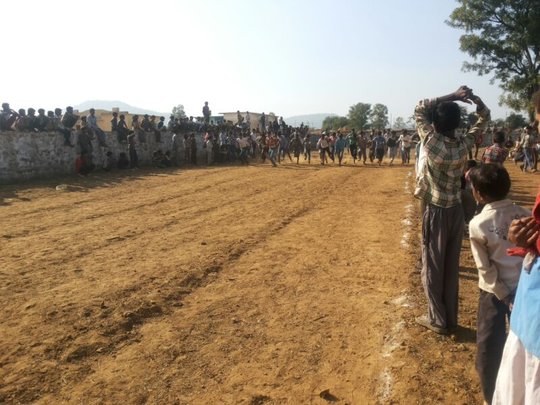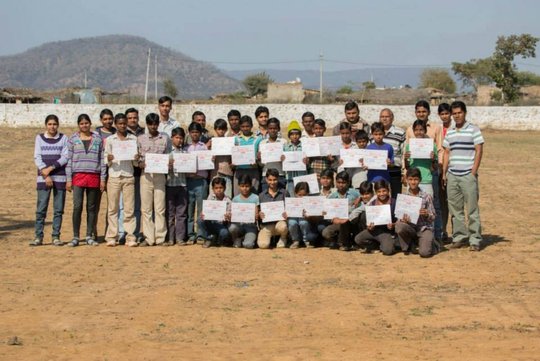 Adharshila on the GlobalGiving Challenge 2013: The statistics so far
Dear Donors,
With your overwhelming support, we have already succeeded in raising funds to adopt one new village and start an Adharshila school there for 50 kids.
Total donors: 89 (#1 on the leaderboard)
Total funds raised: 3289 pounds (#5 on the leaderboard), which will:

Sponsor 16 children's education for 1 year
Sponsor the education of 36 children for 1 month;
Cover 5 teachers' salary for 1 month
Provide warm woolen jerseys for this winter for 150 kids
Equip 2 village schools with toys, games and sports equipment for 1 year
In addition, we have raised 1,890 pounds in general donations, which can help us to adopt a second village and educate 50 more children for one year.
There are 10 more days remaining in the Challenge. Our targets are:
To take the number of donors to 150
To take the total funds raised to 5000 pounds
To remain at the top of the leaderboard in terms of total donors
To reach at least the 3rd spot on the leaderboard in terms of total funds raised
If we meet the last two targets, we will get a bonus of 1000 pounds, which will help us adopt our third village and reach out to 50 more kids next year!
Spread the word please. If each of you help us to find one more donor, who gives us as little as $10, we can reach this target easily. Post this on your wall, add a personal message or appeal, and direct people to the Challenge website: http://www.globalgiving.co.uk/projects/education-for-600-tribal-children-india/
The 5th Annual inter-school cutural programme was held at Adharshila School on 16th November 2013. Children from 4 other schools attended the programme and the audience consisted of hundreds of residents of all surrounding villages.
The programme included music and dance performances by the kids. Many of them are first generation learners who were performing on stage for the first time and were eager to show off their talents to a wider audience. Preparations for the programme had been going on with full participation of students and teachers for the past fortnight.
The stage was a thing of magic, with fairy lights, great music and an eager, enthusiastic audeince. Despie the strong chill in the air, everyone had a great time, and the Adharshila students put up another impressive performance showcasing their local culture as well as the trending music and dance numbers from Bollywood!
Attachments:
WARNING: Javascript is currently disabled or is not available in your browser. GlobalGiving makes extensive use of Javascript and will not function properly with Javascript disabled.
Please enable Javascript
and refresh this page.