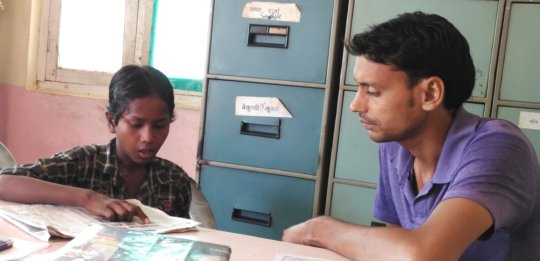 Greetings to all the friends of Adharshila! We have added yet another wonderful year to our journey and have commenced the Academic Year 2016-17 with a series of exciting new developments.
July is time for new enrollments and adding a whole bunch of new kids to the Adharshila family. For the last few years, we have been working very hard to improve student progression from our Satellite Resource Centers (SRCs) – which you support - to the Adharshila Middle School (AMS) in village Agara. The idea, as you know, is to provide young first generation school-going children from extremely poor families with joyful and stress-free primary education in their own village. Once they are used to the school environment, we encourage and support them in getting enrolled at the AMS, which involves travelling a distance of 2 to 9 km from their own village daily. We are proud to announce that this year, 24 such students have taken admission to the AMS. For several of them, just one year of our teachers' support at the SRC has enabled them to make the leap and join AMS, instead of dropping out of school education and joining the labour market at a young age.
One of the new students, Ramsi, says "I took admission in Adharshila because I like the way they teach and the extracurricular activities that we participate in". Another young student Deshraj, on being asked what his favorite subject is, answered, "I like Kho-Kho (a popular field sport) and I'm looking forward to participate in the upcoming kho-kho competition". This freedom of following one's own interests and playing the role of facilitator makes Adharshila Middle School a popular choice for the students.
In another major development which will bring great excitement to the kids, Adharshila has begun collaborating with the Agasthaya Foundation towards hands-on science education. Agasthya Foundation will deploy a fully fitted mobile science lab (a lab in a van) with two dedicated science educators. The mobile van will regularly visit all our SRCs in villages around Agara and provide science learning and experimentation facilities to children in these schools right at their doorstep. We look forward to sharing images from this with you in our next report.
To prepare our teachers for the new academic session, a series of capacity building workshops were organized in June 2016. A team from the mathematics education organization JodoGyan Shiksha came from Delhi to conduct a 2-days mathematics training for our teachers in the first week of June. The second week of June was dedicated to English language training organized by Adharshila's in-house Teacher Educator. In the last week of June, Adharshila's board member and noted lawyer and law educator Abha Singhal Joshi conducted the first of the series of workshops on legal literacy and Rights education. This series will continue through the coming months, and is aimed at eventually creating a cadre of para-legal professionals in the region.
We'd like to thank all of you for continuing to support Adharshila. Thank you for being a part of this deeply satisfying journey. We will be really thrilled if you share your views on our Global Giving page and on your own social media spaces. Please don't forget to 'Like' the Adharshila page on Facebook, which will enable you to receive the latest news and updates from the field. Your help in expanding the Adharshila family will help us reach greater heights in the future.