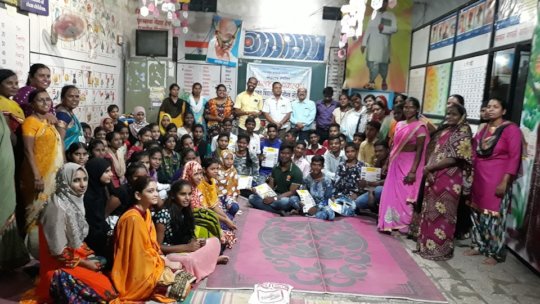 Thank you so much for your support in helping to educate the children in our urban slum communities through our Balbhavan (slum schools) project. You can never over estimate what a difference you are making and below are just three of our many recent stories of success.
Last Monday marked the beginning of the new school academic year 2019-20 in India. A few weeks before the school gates opened, we celebrated the success of students who completed their 10th and 12th standard last year. Despite the hardships they endure living in our slums, they have made remarkable progress in their studies due to our after school classes. This helps us in bucking the trend and challenges in our society where 40% of adolescent girls are forced into child marriage and are missing from schools. While around 30% of girls from India's poorest families never get a chance to go to school we are proud to report 100% school enrollment for the children living in the slums where we work.
We hope you are as proud of our students as we are for focusing on their futures and trying their best to break through the walls of poverty and inequality. Also know that it would not be possible if it was not supporters like you helping our children experience the happiness of being part of a school and receiving a quality education. Thank you!
At the start of each academic year our School Chale Hum celebration encourages students to pack their school bags and join school with a new enthusiasm, confidence and hope for a better future. Our students are excited to get back to the school, meet their friends and teachers and get stuck into the new syllabus. In spite of the adversity they experience and their challenging backgrounds, these students are ready to run the race and successfully cross the finishing line ahead of the pack.
We are hoping that this year's students repeat last year's students' success where 96% passed their 12th Standard exams. Given the inequalities in education, we are proud to let you know that the highest scoring student from our Balbhavan was a girl scoring 81% followed by two other girls scoring 77% and 75% respectively.
Our 10th standard students also gave us a result of 85% for 2018-19, with again a girl student topping the table with 81%. Your support means everyone has an equal right to education regardless of income, living circumstances or gender.
Finally, more good news! Last year we reported that Shubhangi, a former beneficiary and now peer mentor in our slum schools, would be representing India at the Homeless World Cup taking place in Mexico. Unfortunately due to circumstances beyond our control she didn't make it to the pitch. She also didn't give up and we are pleased to announce that she has made the team for this year and her tickets are booked for the football competition in Cardiff, UK from 27 July-3 August. She needs your support and encouragement and we are asking those who will be in the UK this summer to go along to Cardiff to cheer her on as she finally achieves her goal. You can follow her schedule and progress on our facebook event and read more about her football journey at the inks below.
Thanks for being part of our team and playing your part in giving our children life-changing opportunities to achieve their goals.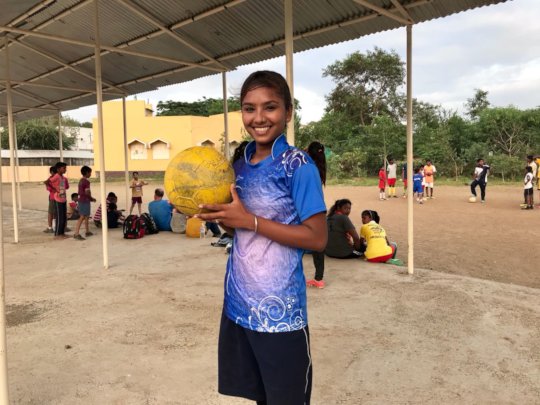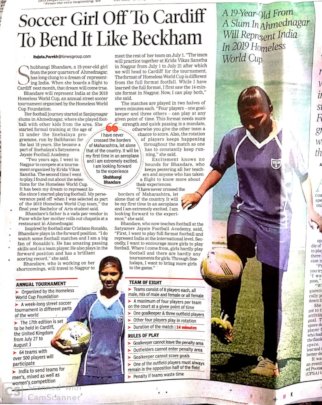 Links: