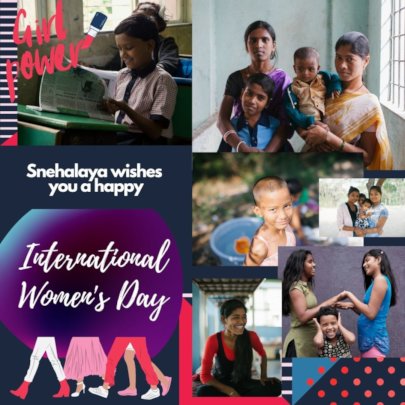 Happy International Women's Month. To help us celebrate all of our women, we are proud to have been selected to take part in GlobalGiving's International Women's Week Campaign to advance gender-equality and uplift women and girls in communities around the world. During the campaign which runs until 12 March, all donations up to US$50 will be matched by 50%.
We rely on the support of you and partners such as GlobalGiving to help us raise much-needed funds to support women of all ages but we equally need your help to raise awareness of the issues.
The World Health Organization (WHO) considers that one out of five women has been physically or sexually assaulted by a man in her life and, in 2017, Reuters ranked India the fourth most dangerous place to be a woman. Gender-based violence such as domestic violence, sex and forced-labour trafficking, dowry deaths, rape, workplace harassment and child marriage continues to increase, irrespective of the education that's been given on these topics.
Child marriages in Maharashtra where we operate have surged by 78.3%. Every third adolescent girl aged 15-19 years is married and every second married adolescent girl has given birth to a child. Despite harsher penalties, crimes against women and girls in the country are continuing to rise with a 31% increase in the number of reported rape cases over the past 10 years, averaging 88 cases every day.
COVID-19 has added to the issues with the 'shadow pandemic' resulting in dramatic rises in the cases of violence against women and girls. On top of this, online harassment such as stalking, misuse of personal pictures, and inappropriate messages has also gone up making social media and other online platforms an unsafe place for an already restricted female population.
With your support we are working to end this systematic violence and ensure lives free from inequality, cruelty and discrimination. We believe that every woman deserves a life with dignity and freedom and we stand with them to create a life they truly deserve with all of our love and support.
This week and month is the time to celebrate women and we hope you enjoy this video from our celebrations last year: https://www.youtube.com/watch?v=atuHoGjv75E. We will once again be hosting activities for the women who call Snehalaya home.
We truly do appreciate you and with your help we have made a significant difference:
Snehalaya's Childline team (ranked no 1 in India) rescued 88 girls from child marriage during lockdown - over 40% of all rescues in Maharashtra!
Our 3,500 sex workers were also hit hard during the lockdown period and so far we have helped 35 of them leave prostitution and find new vocations.
Our women's shelter and helpline provided sanctuary to hundreds of women experiencing violence.
Our adoption center, despite being 20% over capacity, continued to support pregnant women and victims of rape.
Food and hygiene kits distributed to 40,000 families in our poorest communities
Roadside assistance to 40,000 migrant workers on the long walk home from Mumbai and Pune.
Our new mental health project helps women rejected by their families and forced onto the streets.
You can help us to support many more survivors of abuse and violence today by building them a better, happier tomorrow. We believe in the power of you!
Links: