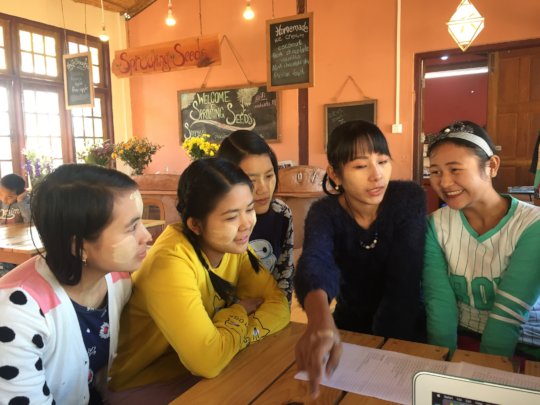 20th Report for Sprouting Seeds Learning Centre
Dear Friends and Family,
We are very excited to share our latest news with you from our Training Centre here in Kalaw!!!
We are coming to the end of another high season here in Kalaw and we are happy with the progress we are making here at the Centre.
Extension of Teacher Training Project
Here at Sprouting Seeds we have taken on a new focus over the last few months. Our café, bakery and eco shop is now serving as an extension of our Teacher Training Program. Together with our partners SEMS, we are now offering teachers from our teacher training network 3-6 month internship positions here at Sprouting Seeds.
We established the project 2 months ago and have had our first batch of 7 teachers coming from all over the country. We are first focusing on teachers from our networks schools which we have a long term relationship with, in order to have the most impact.
Our internship position aims at full emersion in a hands on learning environment. The teachers are learning by doing! Our goal is to support them in practical skills development and also will have follow up support once they return back to their schools.
As part of the program, the girls all live here at the café now, so we have been busy with renovations of space for them to live.
We are very happy with the program so far and are excited to share more news as the project continues over the next few months.
Exposure Visits
As part of our new focus and training of teachers here at the café, we have been able to enjoy many exposure trips for the teachers into the surrounding areas. We have taken the teachers to local temples, caves, mountain sights, and have had several trips out to our farm project in the village.
Visit from Board Members Thom and Melita
For most of the month of December, our dear friends and board members Thom and Melita from Holland were able to join us here in Kalaw. It was a wonderful time, full of meetings, hard work and good laughs!

We look forward to their visits each year, as we have time to review the following year and also time to plan ahead for the upcoming year.
We are happy to share our latest news with all of you and look forward to sharing more in the near future. We are grateful for all the support we receive!!!
Warmly,
Sprouting Seeds Family