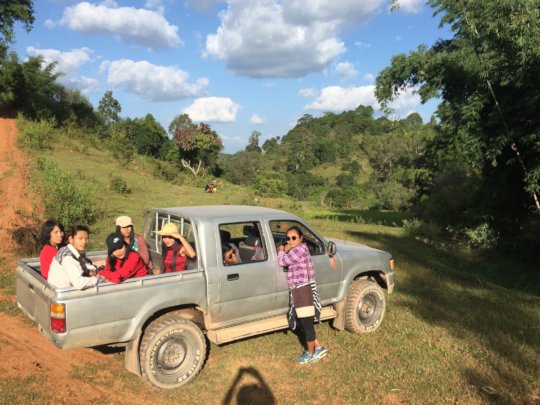 Dear friends and family,
We are happy to say that we have made it through another soggy monsoon season here in Shan State!!!! The sun is out now as we make our way into cold season which means more tourist will be coming to Kalaw!
This means time once again to focus on developing the land and new buildings!!! So excited to share our news with you!
We found the 4x4 truck
We are so thankful for the amazing support from all of you and were able to purchase this amazing 4x4 truck!! We now have made several journeys out to the farm in the new vehicle. This will make a world of difference at we had into the busy building season. We are so thankful!
Road Work Completed
We just finished another round of road work at the farm. With a tractor and then several trucks loads of light gravel, the road is now improved 100 percent and ready for regular use into the farm! It has taken a while
New Full Time Staff
This month we were able to hire our first full time staff at the farm! We are so excited. This is the uncle we were fortunate enough to have purchased the farm from, so he knows the land so well and supports us with a great connection to the village. We will work with Uncle over the next few months of dry season to really help make more progress at the farm. Welcome to our team!!!!
New Water Source
Thanks to Uncle, we have also been able to locate another water source from which we will be pumping our water for use at the project through this dry season. Water is a huge issue in this area….and will continue to be an ongoing issue here at the farm. However, with this water source and building more holding tanks this coming dry season to store up on rain water, things should get a little bit easier.
Prep for APA High School Group
Finally, we are happy to say that we will have a group of 90 high school students from Yangon coming to work with us at the farm and at Sprouting Seeds in town in December. We are working hard this month to prepare everything so that the kids will be able to camp out at the farm for 3 days while they are here. It will be our frist group at the farm…so much to do, but we are so excited.
Once again we want to thank everyone for all the incredible support you show us. With many plans for development of the farm over the next few months, we are looking forward to having more and more visitors in the near future.

We look forward to sharing more news with you of our progress over the next few months.
We thank you for all of your support!!!
Whispering Earth Team