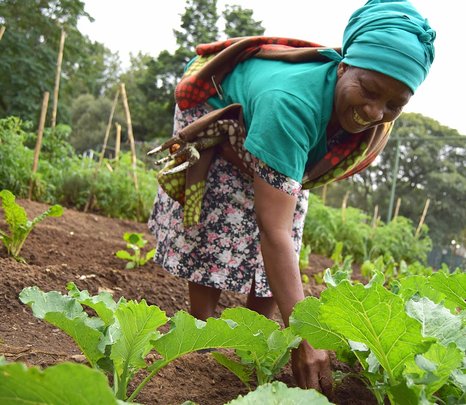 "One reason I enjoy working for Project HOPE is we do many important and different things – like screenings, building community gardens and doing pre-clinic home visits – that are all linked together and can help save or change someone's life. Every time I go to my work I feel blessed and joyful inside because we know our team is going to make a difference in someone's life today." Refilwe L. Maseko, HOPE Centre Program & Volunteer Coordinator
The HOPE Centre continues to fight diabetes and hypertension in Zandspruit, and surrounding communities in South Africa, through its unique and evolving programs and its dedicated staff. While providing quality patient care, education and patient support programs, the HOPE Centre is constantly implementing new initiatives that support people in the community to live overall healthier lives. Today, we wanted to tell you about the newest initiative launched at the HOPE Centre – a lush community herb garden!
The driving force behind the Kopano Herb Garden project was HOPE's Refilwe L. Maseko, the HOPE Centre's Program & Volunteer Coordinator, who saw the potential of an unused space at the Emthonjeni Community Centre. The project motivates patients and local community members to incorporate more herbs into their diets in effort to reduce salt and spice intake. By engaging individuals in the garden's cultivation, community members learn how to grow herbs on their own while also creating an ownership of the resulting crops. Garden members not only receive cooking classes through the Centre on how to use the herbs but are also able to sell produce from the garden and share the earnings with the group, providing extra income from members' families. On the project, Refilwe said:
"I saw an interest from the community to get involved, for them to earn a bit extra money and a possibility for further ways to increase the health awareness that's already the high focus for the HOPE Centre. We started small but the interest of the garden has been high, so our garden has grown in to a fantastic lush jungle of herbs."
The project has been a local success, providing rosemary, thyme, basil, chives, rocket and sage for garden members and a group of local restaurants purchasing the fresh herbs. The garden is being expanded to include garlic, lavender, mint, lemon grass and lemon balm in the future.
With the support of generous donors like you, people in Zandspruit have increased access to healthy foods, financial opportunities and better lifestyles! To read more about the HOPE Centre, check out our blog and our March newsletter.