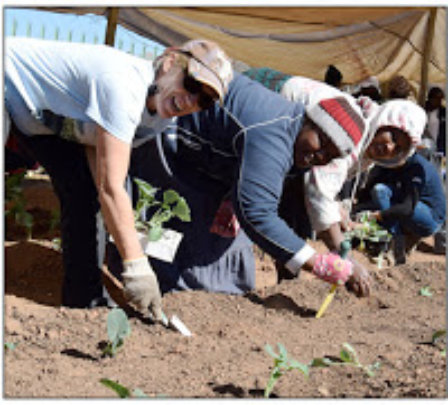 Last time we wrote to you, we shared exciting news of the new community garden that the HOPE Centre helped established in Itsoseng on Mandela Day. The event was a huge success and the HOPE Centre and the community members have since been busy tending to the herb garden and making sure it is sustainable.
On Mandela Day, the land was transformed into a garden in the midst of excitement, singing and dancing throughout the day. Here's what two of the event participants had to say:
"I'm so happy and excited about this new garden. I have worked in a garden before at my previous job as a domestic worker. There were also herbs so I have a bit of experience. I have no job at the moment so I will definitely be here every day to look after the garden. I'm looking forward to see the plants grow."
- Thokoziale Mashaba, Gardener of Itsoseng community.
"It's so enjoyable to be here, seeing all these people working together, creating something. Two days ago I was in Oxford Circus, in central London, surrounded by busy and stressed people, driven by consumerism - it's such a different world. Here you find joy and a spirit of "living" that I think we have lost in the Western world. People are singing and dancing and are so excited to be a part of something, it's a real eye-opener".
- Lesley Billington, volunteer and expat from UK
In addition to helping establish the garden, HOPE Centre staff are also guiding community members on how to grow and sell their produce while also teaching them how to cook and use these healthy foods in their daily lives.
For more information on the HOPE Centre, check out our blog as well as the recent article illustrating its success, published in the peer-reviewed journal, HealthAffairs.
Thank you for all of your generous support and we look forward to updating you again on our exciting work soon!