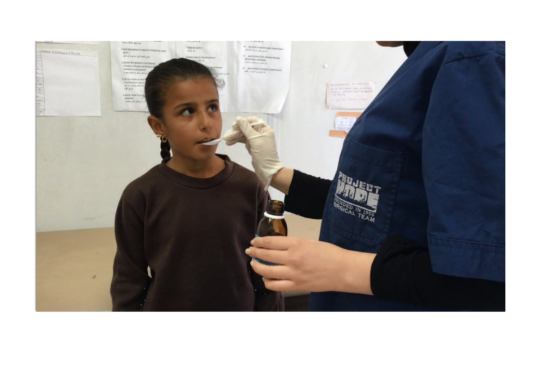 In honor of the upcoming National Volunteer Week, April 10 – 16, Project HOPE is recognizing the commitment of its volunteers providing life-saving health care and services to those most in need – especially those in Macedonia helping refugees and their families, like Dr. Angel Trposka.
"We are here to help in any way we can and happy to provide care to these people suffering from severe diseases and illnesses," Project HOPE volunteer in Macedonia, Dr. Angel Trposka
Just since January of 2016, HOPE volunteers and medical staff, like Dr. Trposka, have treated more than 1,000 patients passing through the transit centers in Macedonia as they continue their journey. Most of these patients have been children with illnesses such as fevers and head lice and adults suffering from bronchitis and diabetes.
Project HOPE volunteers have not only been treating patients but have also been handing out blankets and food throughout the refugee camps in their spare time and helping patients stay with their families. A new team of volunteers consisting of a doctor, nurse and logistician arrived in Macedonia on March 15 and began helping at the northern border; however, the need for medical personnel only continues to grow. Project HOPE is currently working to secure a third team of local Macedonian volunteers to provide additional support.
In addition to volunteer support, Project HOPE has shipped more than $2 million in donated medicines and supplies to the Macedonian Ministry of Health to-date, supporting medical facilities serving refugee transit centers. Project HOPE was also recently recognized by the MOH as their best partner in the response to the crisis.
Our work, and the work of our volunteers, would not be possible without the generosity of donors like you. Your support enables us to provide quality health care and services, directly impacting the lives of children and their families affected by the refugee crisis. Thank you!
To learn more about our work in Macedonia, click here.