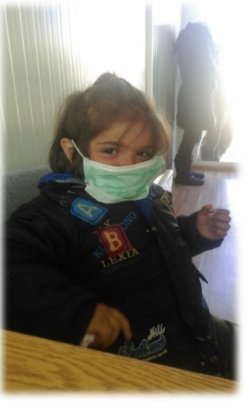 The Syrian Refugee Crisis continues to effect so many, with the number of refugees entering Europe rising from around 12,000 in 2015, to over 130,000 as of March of this year. With support from our donors, Project HOPE is continuing to provide medical supplies and has delivered over 2,200 volunteer hours, treating more than 3,000 refugees affected by the crisis.
We wanted to share one young girl's story with you that shows the impact your support of Project HOPE's work has made on her life during this difficult time.
Amina is a seven-year-old girl who fled Syria with her mother and two brothers and is currently staying at Tabanovce transit center, on the Serbian border. Not long after arriving, Amina became sick, and after three weeks of requests, her mother was finally able to get her seen by a doctor. After further testing, Amina was diagnosed with a urinary tract infection combined with emotional stress. Project HOPE volunteers learned from Amina's mother that her emotional stress was due to the fact that they were separated from Amina's father and older sister, who had already made it to Germany. Amina cried every time she would hear people talk about the closed borders, fearing she would never see them again. The Project HOPE team took care of Amina's therapy and helped her cope with the emotional crisis she was facing. Thanks to the efforts of our Project HOPE volunteers, Amina is now playing again with the other children and can be seen running around, laughing, and giving hugs to our volunteers.
We want to thank our donors for your support, because without you, stories like Amina's would not be possible. In a letter written by Project HOPE volunteer Krenare Jashari, who was once a refugee herself, she says, "From my personal experience, I can truly say that being forced to flee your home and leave behind everything that's familiar and dear to you is one of the toughest challenges anyone can face. However, seeing how various NGOs such as Project HOPE are working together to offer basic needs such as food, water, shelter and access to health services, really makes me proud of my colleagues who work hard day and night to help the refugees through the darkest moments of their lives." She ends the letter saying, "Let's all take a moment to reflect on the things that really matter and help a little every day to make the world a safer place." With your continued support and generosity, we can work together to do just that.
To learn more about HOPE's work in Macedonia, please visit our webpage.
Links: