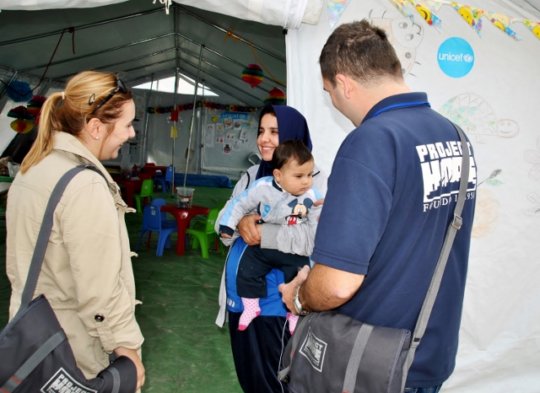 Maximize Your Impact! Help us Support the Health and Wellbeing of Refugees in Macedonia
Project HOPE is extremely excited to be participating in GlobalGiving's Syrian Refugee Matching Campaign! From July 12th to August 16th, GlobalGiving.org will be offering a 50% match to all donations made in support of our efforts providing health care and humanitarian aid to refugees in Macedonia. Not only will this campaign strengthen our efforts to deliver critically needed health services and care to refugees but it will also provide donors like you the opportunity to maximize your donation's impact on the lives of those most affected by the crisis.
Your support over the next month will help individuals such as 18-year-old Hiba, a refugee who received medical aid from Project HOPE volunteers. Hiba, whose fiancé is still in Syria, was eight months pregnant, suffering from lack of nutrition and severe stress. Thanks to the efforts of the Project HOPE team, Hiba is now seeing a psychologist and has regular visits and health assessments to help improve her condition. Project HOPE has been committed to helping those affected by the refugee crisis, and with your help, we can reach new goals and provide even more funding to support lifesaving programs.
With the start of this campaign only a few days away, we hope that you will consider making a small donation over the next month in support of stories like the one above. We also encourage you to share our project page with your peers to spread the word about the impact we are making together on the lives of refugees in Macedonia. And remember, the matching campaign only goes until August 16th, so time is of the essence!
Project HOPE is extremely grateful to all of our amazing donors who help make our programs possible. As we begin this exciting month with GlobalGiving's Syrian Refugee Relief Matching Campaign, we want to thank everyone for your participation and generosity. We will continue to update you on our efforts over the next month and show you the impact of your generosity on children, families and individuals who are in need of health care and services during this dire time in their lives.
To make a donation, visit our project page: https://www.globalgiving.org/projects/help-provide-health-care-for-syrian-refugees/.
Thank you as always for your continued to support and we look forward to staying in touch with you during this campaign!