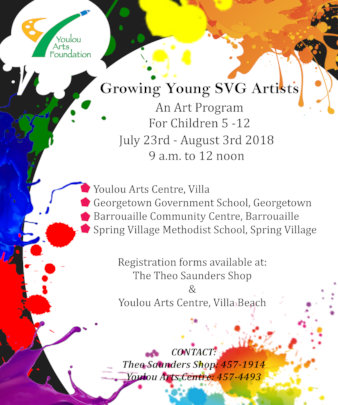 July is here !
The 2018 "Growing Young SVG Artists "program is indeed happening! Preparations are in the final stages. The art supplies have already been shipped to St. Vincent in 2 barrels. The dates have been set. The Teachers Training Workshop takes place July 18th through July 20th.
The instructors are exchanging info. about octopuses. The excitement is building!
The first sea creature sample has been made from paper mache. It is a seahorse called Nelson.
Flyers have been sent to parents inviting them to send their children to the program.
Donors a huge thank you!
We are able to make these preparation, because of your genourous contributions.
The children's program starts Monday, July 23rd.
In some locations children are already asking for registration forms. They are looking forward to the start of the program.
The activities range from paper mache sea creatures, to book making and poetry writing. Activities require the children to use their imagination and have lots of discussions.
It will be interesting to see what the children produce!
I will keep you posted in my next report. There will be much to see and report on the 2018 program - "From The Sea Part 2".
Your generous support has kept this program going all these many years. Please continue to support us.
Links: