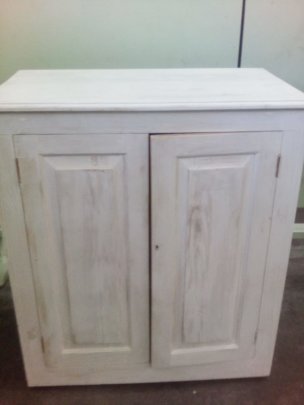 Generous donors, 2019 is coming to an end. There is still time to donate to Youlou Arts Foundation. We need your support more than ever to help support our afterschool art club.
January 2020, our long anticipated project will start. We have been hoping to start this initiative, when we launched the Youlou Art Centre in 2017. Plans were made to offer an after school art program to children between the ages of 5 to 12 at the Centre. But our plan did not work out. It took a long time to finally figure it out.
There were many problems to solve. Finally we realized we had to be flexible and creative. Most of our problems were centered around transportation. How to get the children to the Centre, which is not in a central location.
After a great deal of thought we realized rather than "dragging" the children to the Centre, it would be easier to offer the art program at the school. Then there was the question of dealing with the art supplies. We built a cupboard, put it on castor wheels, and placed a lock on it.
I think I can truthfully say we are ready to start "Youlou After School Art Club."
Stay tuned for more updates on the Art Clubs.
Here's wishing all our donors a wonderful holiday season.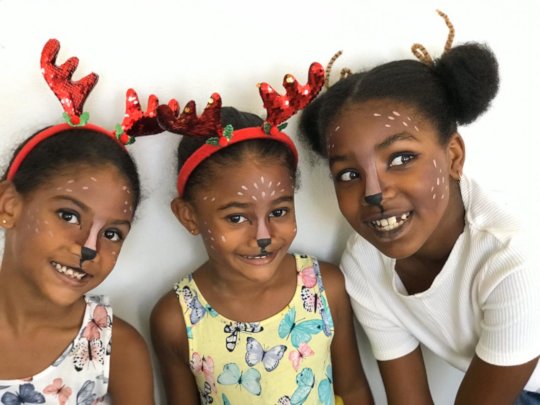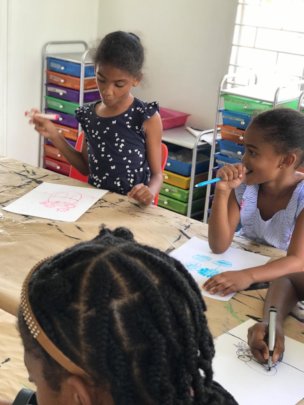 Links:
Dear donors it is with great pride I can report the success of the 2019 annual visual arts program titled " Growing Young SVG Artists". The program held July 22nd to August 2nd was truly enjoyed by all the participants. The theme "From The Sea Part 3" focused on coral. To start the program a short film was shown about coral, after lots of discussions about coral, including visiting one in the neighbourhood, the projects were presented. A coral song was taught along with poems about coral. Lots of drawing and painting and finally the making of a huge coral reef which is on display at the National Public Library in Kingstown.
The Textile Workshop was also well received. The girls learned many embroidery stitches, did fabric painting and tie dyed a t-shirt which they then decorated with embroidery, beads and buttons.
The parents were very happy with the new sewing skills the children were taught.
Donors I want you to know, because of your donations we are able to produce this very special art program to the children of St. Vincent and the Grenadines. A huge thank you for supporting us. It means a lot to the organization.
In 2020 it will be 20 years we will be offering the "Growing Young SVG Artists" program. We are planning a big celebration and hope you will contribute to this effort.
Stay tuned for updates on the women's art show which opened August 3rd.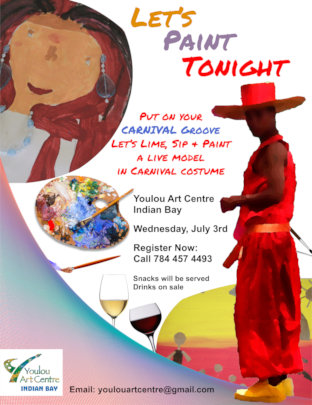 Generous donors, I am very excited to share with you the plans being made for July and August at the Youlou Art Centre, Indian Bay.
We have spent the last several months preparing our new space and making plans for workshops and events.
At the moment we are getting ready for a "Sip and Paint " event slated for July 3rd. This event engages the adult public in a relaxing, fun, and creative way.
On Monday, July 22 the annual visual arts program will start. Like last year we will have a morning and afternoon session. The morning session is geared for children 5 to 12 years old. The theme will be "From The Sea Part 3" a continuation from the last 2 years. The focus will be on coral - This session takes place in 3 locations.
Children will learn about the Coral Kingdom, why coral is important to the environment and the danger the world's coral reefs face. Activities include sculpture, drawing and painting. The end result is a large coral reef.
The Textile Workshop, the afternoon session, will take place at the Youlou Art Centre.
It is for children age 8 and up who want to learn the art of decorating on fabric. Children will learn basic sewing and embroidery stitches, how to applique, and tie dye. In essence they will learn about surface decoration. The end result is a decorated T-shirt using their newly learnt skills.
August 3rd is the opening reception for the show "Vincy Women Artists Now 2019". 14 women will be showing their art work.
Donors continue to support us we are striving to build a strong and creative arts community in St. Vincent and the Grenadines.
Your support is indeed needed.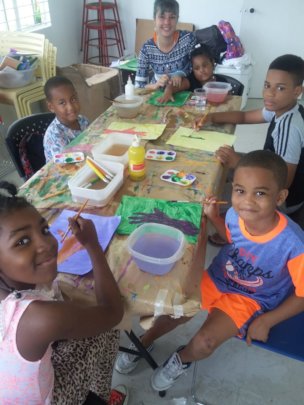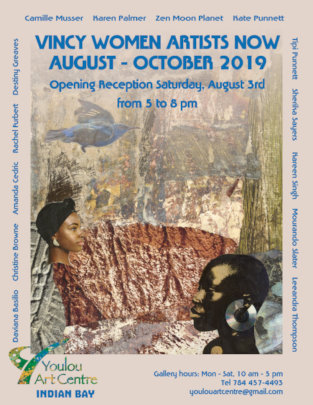 Links:
WARNING: Javascript is currently disabled or is not available in your browser. GlobalGiving makes extensive use of Javascript and will not function properly with Javascript disabled.
Please enable Javascript
and refresh this page.