Donors 2020 has forced us to be even more creative. We are persiting in spite of all! Your support is key. Please continue your donations.
In July we had our annual art programme "Growing Young SVG Artists," in one location, the Kingstown area. We did not organize it in the other three rural locations on account of Covid -19.
For the first time since the programme has been organized. I was not physically there to help run it.
This year the focus was "Trees". The children grew trees, adopted trees, made family trees and even a wishing tree. Both the children and parents were happy with the planned activities.
On Saturday, August 15 the second annual women's show "Vincy Women Artist Now 2020 " Show opened at the Youlou Art Centre.
This show was well attended and several paintings have sold. The show ends November 20/2020. During the month of October we are planning to invite school children to come and see the show.
Now that children are back at school we are busy promoting the Saturday morning art class for children age 5 to 12.
We are also making plans for 2021 and hoping for a great year.
We know the times are stressful, the arts are needed more than ever.
The need to console and comfort through the arts is of utmost importance.
Donors I am appealing to you to give us your financial support.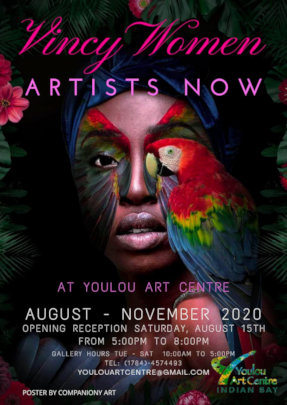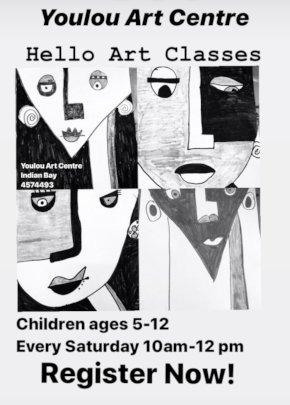 Dear donors the Covid 19 virus has put us all on pause for the moment.The majority of our plans, made in the fall of 2019 have been canceled. It is truly painful.
However we were able to have the opening reception for the show titled "Lush SVG" on March 7. The response was positive. Several paintings were sold. The show continues until July 20.
Canceled from the middle of March were our Saturday morning "Hello Art" class and our newly implemented "After School Art Club". All schools have been closed since March 20th.
During the months of April and May, the Youlou Art Centre closed for repairs. It reopened May 30. We are in the process of trying to restart our Saturday morning art class.
We are still trying to figure out if we will be able to offer our annual art program titled "Growing Young SVG Artists". For 20 years we have been offering it without interupption.
Donors we need your support more than ever.
We realize in these stressful times the arts are needed more than ever.
Programs we hoped would bring in some well needed funds had to be canceled.
But other opportunities have presented themselves. Adults are seeking art classes at the Centre. We want to sieze this opportunity, but funding is needed.
Donors I am appealing to you to give us your financial support today. The world needs art right now. We thank you for your continued support.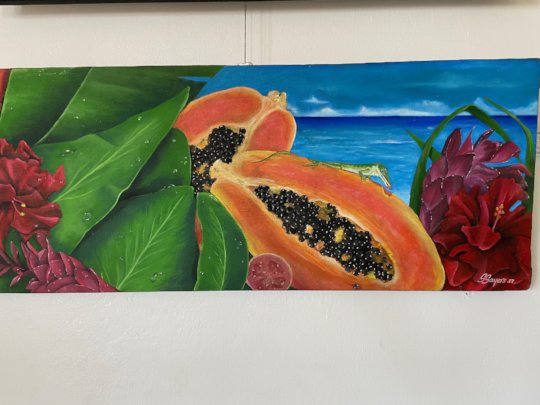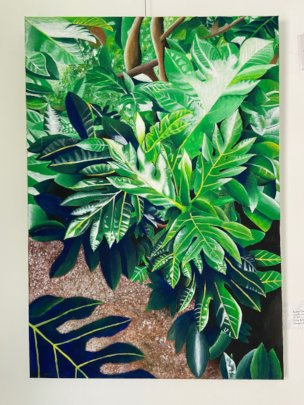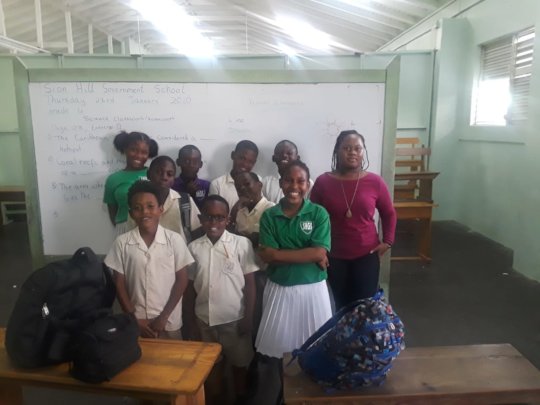 Donors I am very happy and proud to write that on Thursday, January 18/2020 the first Youlou After School Art Club finally started with the students from the Sion Hill Government Primary School.
I have to admit it was not a breeze implementing the program. We have been working on it for over a year. There were many issues which needed to be ironed out.
But with steady persistence and armed with the knowledge that implementing an After School Art Club was a terrific idea for children who do not receive an visual arts education during school, we persisted with great determination. We were able to resolve the nagging issues such as transportation, the time and day to offer the program and finding an art instructor, these were some of the main issues which prevented us from moving forward with this project.
But we persisted. We finally started the program.
Donors we thank you for supporting Youlou After School Art club. Your donations have enabled us to follow through with this project, which is truly needed in primary schools in St. Vincent and the Grenadines.
Please continue to support us, it is our goal to start more After School Art Clubs.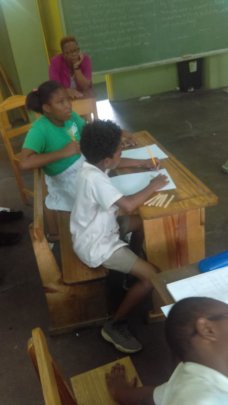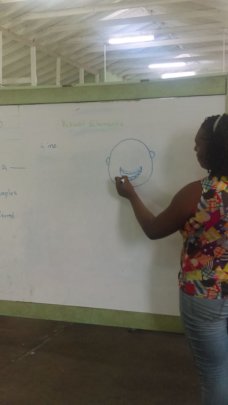 WARNING: Javascript is currently disabled or is not available in your browser. GlobalGiving makes extensive use of Javascript and will not function properly with Javascript disabled.
Please enable Javascript
and refresh this page.