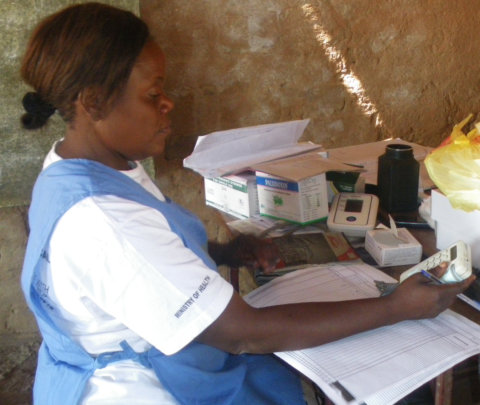 Better Together
We can achieve some things alone but we believe it's always better together. At On Call Africa we believe in the power of volunteers and healthcare professionals from Zambia and beyond working together to improve access to healthcare.
We recently spoke with several people who have worked alongside our teams over the past few months.
One nurse based at on of the Rural Health Centres in the area we work told us about her experiences of working with our volunteers: "It is good to work with On Call Africa. The CHWs that have been trained reduce the workload on me and decongest the RHCs because they are able to treat simple illnesses in their respective health posts. Some of the patients were actually dying right up there in their homes because of the distance they could not cover to come to the RHC to get medical attention. We are now able to reach each and every individual."
A senior healthcare professional working in our target area agreed, explaining: "We as Zimba District, like Kazungula, are really benefiting from the partnership with On Call Africa. The help rendered aids reaching three areas - Pukuma, Chalimongela & Chikuyu - which are among our furthest catchment areas."
Our partners and volunteers all emphasized that the three aspects of On Call Africa's work are vital. Mobile clinics provide immediate treatment, but our health education programme and training of community health workers is vital in creating long-term improvements.
A volunteer doctor from the UK summed up the approach: "The exceptional benefit of working with On Call Africa is that doctors can help create something sustainable through education. The community health care workers all have a real eagerness and enthusiasm to learn."
The training of local people to pass on key messages about health was seen to be life-saving by one of the local nurses: "Maternal health has been a challenge for some time. It's sad to see a woman dying who's giving birth due to the fact they didn't know about danger signs. Now they have CHWs that live with them in their community who teach them and tell them about the danger signs."
The senior healthcare professional underscored the same point: "We are glad to stress that we are getting a lot in the partnership; and, most importantly, for the sake of sustainability they mentor and train some of the Community Health Workers and volunteers who will help reach the community by quickly identifying severe conditions while all the more increasing health awareness in the community. This ultimately helps the District and the nation as a whole bring healthcare as close to families as possible."
On Call Africa is committed to working with partners to improve access to healthcare over the long term. Thanks to your support we are helping people to get better together.