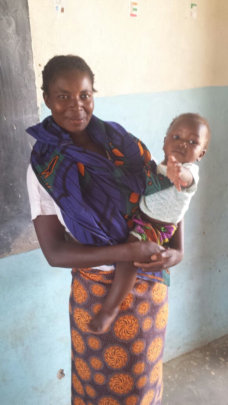 Dear Friends of On Call Africa
Last year nearly 2,500 people told us that their visit to our clinic was they're first ever consultation with a doctor.
Meanwhile, one of the little children we care for is doing well. Twelve months previously, suffering from the effects of severe malnutrition, she had been saved from critical danger by the interventions of our team of Zambian and UK volunteers. Together they helped her back to health – just one of nearly 6,500 patient diagnoses and treatments last year, including over 2,000 children aged under 5 years.
In the last year 13 community health workers completed On Call Africa's one-year training course. They travelled to Livingstone to participate in five residential training weeks, with each demonstrating improved knowledge and better competencies to allow them to be a more effective first point of call for their communities health needs.
21 doctors volunteered with On Call Africa during 2016. Travelling to Zambia these committed volunteers enable us to continue to increase access to healthcare in rural Zambia. Supported by our Zambia team they made an immense contribution to our three key activities: treating, training, and teaching.
14 trusts and foundations generously funded the purchase of medicines, training resources, and our running costs in Zambia. A growing number of Friends of On Call Africa have continued to offer regular financial support, and our programme to develop community health worker-led healthcare has been awarded three year's funding from the Scottish Government.
During 2016 the Trustees developed our three-year strategy, underpinned by the following values:
1. Quality health care for all: Everyone is entitled to high-quality healthcare in their own community
2. Community-led: Local communities should have ownership of health issues and health care
3. Volunteerism: Volunteering is an effective way of making change happen
4. Independence: Achieving our goals requires we retain our independence, responsiveness and transparency
The six strategic objectives for the period 2016-17 were agreed as follows:
1. We will continue to develop and test a community-led model of health to maximise effectiveness
2. We will seek to expand and deliver its model in other areas of Zambia's Southern Province
3. We will build strategic partnerships to address public health issues at the community level, and to influence issues practices and policies at other levels (district, province, national, global)
4. We will increase local ownership and accountability to stakeholders
5. We will add new skills and staff
6. We will grow income streams and maintain healthy reserves
We are immensely grateful for all the support and participation from volunteers across the UK and Zambia during the past year, and look forward to continuing to work towards improving access to healthcare in southern Zambia during 2017.