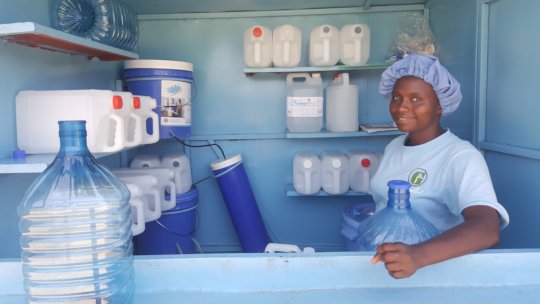 This quarter we did a powerful dissemination event at The Nelson Mandela African Institution of Science and Technology in Arusha, Tanzania on 28th April 2019. Among other things we demonstrated the IMPACT made by the Nanofilter innovation:
Nanofilter has created job opportunity to 90 ladies at age 18 - 30 who work at the water stations as Operators. All these ladies were not employed before, as says ................(name reserved): "I had no job; no hope! Thanks to Nanofilter for employing me as an Operator". Through the employment at water stations, these ladies are now able to support their families, send their children to school, and act as financial pillars for their families - for those who are married their husbands are so proud of them. The job that Nanofilter provides is decent, respectable, dignified and fulfilling; the ladies are always dressed in uniform and are clean all the time. Some of the stations give the ladies salary that is four times the amount that they could receive if they work in similar jobs like selling at the shops or working as house girls. The job at Nanofilter give the ladies great respect in the community because they act as "health educators" and "life savers". Each water station provides clean and safe water to about 100 people daily.
The Breakthrough
NanofilterTM innovation has achieved commendable results in various aspects and the sustainability is guaranteed. Here is the summary of impact:
10 different awards, include WHO Health Prize
250,000 beneficiaries (people who have been reached with clean and safe water)
90 NanofilterTM water stations (points where people can buy clean and safe water at affordable price)
517 Households with NanofilterTM (each household has about 6 beneficiaries)
73 Institutions with NanofilterTM including schools in rural Tanzania have already installed Nanofilter system (some institutions like schools have up to 450 people)
90 Employment to young ladies (age 18 - 30) - they work as Operators
15 Employment to NanofilterTM staff - mostly University Graduates
130 other self-employed people / local entrepreneurs, welders, guards, etc.
Publicity for the product and its sponsors: Online views by 2 million people
Beyond Tanzania: 10 NanofilterTM water stations in Kenya - through Savemod Earth Link company as Franchise
More than 2.3 million plastic bottles NOT used due to refill business model
Assured financial sustainability
As NanofilterTM innovation has achieved commendable results in Tanzania the team is now ready to take the product to other countries. At present (April 2019) there are requests from 12 different African countries and 7 other countries around the world.
These are examples of how pressing the needs are for expanding Nanofilter product:
"Hi, I'm .................(name reserved) we live in San Luis Potosi, I found your page and I am interested, I want to know more about your filter, since I want to market it to people with low resources and in communities where water has great contaminants and bacteria that affect health of people, especially of low-income communities. I do not have great resources I will start little to fill all of Mexico, with its filter, I need to know how much it costs and if it is accountable to all people, but that despite being economical, it is efficient and useful to all."
"SALES AGENT IN KENYA / OTHER PARTS OF AFRICA: Dear Sir, I hope this mail finds you well. May I once again request you kindly to consider me for the above subject when you will be venturing in this business both here and other parts of Africa. I will be very glad if you may consider me in this project, let me promise to be punctual and responsible if you may consider my request.
Yours faithfully, .........................(name reserved)."