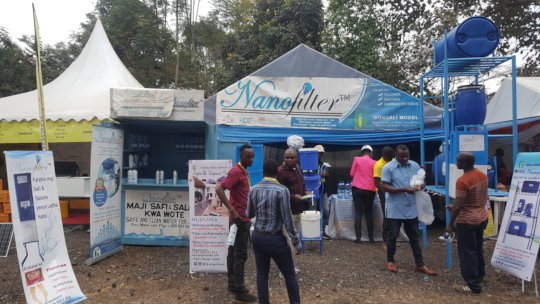 THANKS for standing with us "in season and out of season".
Besides COVID-19 challenge, we are so grateful that most of our supporters continued to generously support us - though they themselves might have been challenged by COVID-19. That's a great sacrificial spirit and we will always respect and cherish your generosity.
The most important activity we accomplished this quarter is successful participation in the exhibition event that happens every year in August. As you can see in the photo, we displayed all our products which are:
1. Nanofilter for households and for schools / institutions
2. Biogas and organic fertilizer
3. Solar Lanterns and
4. Inspire and Empower Centre
We had more than 1,000 visiting our booth and we recorded their names for future follow-ups.
Last but not least: please kindly join our 10 years celebration on 1 - 5 Dec 2020. We will show-cost our success stories and the impact to our community. Also we will release our great plan to scale-up to 20 different African countries in 2021. It looks like an "impossible dream" - that is why you need to witness by yourself.
Please kindly click this link and join us for the GREAT CELEBRATION on 3rd Dec 2020: http://evite.me/4A6mY5mjd9
We will come back with further details about this GREAT CELEBRATION for our 10 Years Mission & Vision. For now please keep the date: 3rd Dec 2020 - and share the link with others.
THANKS again for being very kind to us, even amidst COVID-19.
Askwar Hilonga