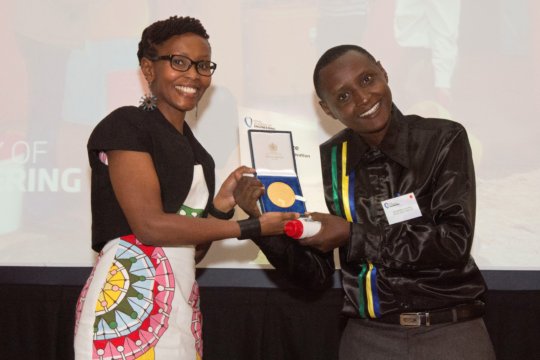 This quarter of 2015 was very exciting to TAHUDE Foundation for two reasons:
(1) We were PHYSICALLY visited by the GlobalGiving representative (Kelly Kurz). We were so happy to learn a lot from Kelly's presentation and site visit - based on his AMAZING insights on how to scale-up our initiative and many other PRACTICAL lessons. We visited beneficiaries of our project - school kids and their families. We went to their schools and few homes to see how much they enjoy our product/solar lanters. The school kids, their families, and teachers were very grateful to the sponsors who helped them through GlobalGiving. For anyone with an experience of working in Africa must admit what I mean - there are many places in rural areas where school kids cannot study after the sun set OR they still depend on harmful kerosene lamps and burners. The solar lanterns are still expensive - that is why we asked GlobalGiving and its partners to subsidize the solar lanters to make it affordable for kids in rural areas to purchase - THANKS FOR YOUR RELENTLESS SUPPORT.
(2) Our second success story this quarter is that our project leader, Askwar Hilonga, won the Africa Prize for Engineering Innovation, sponsored by the British Royal Academy of Engineering. This prize/award is very important for Tanzania and Africa at large because many young people in African and other developing countries need to witness the real success story of local innovators who work with their grass-root community - influencial people who have decided to GIVE BACK TO THEIR COMMUNITIES. In this case Hilonga is now a ROLE MODEL.
We expect another quarter of outstanding activities - KEEP CONNECTED - WE WILL UPDATE YOU REGULARLY.
Links:
This quarter we are reporting OUTSTANDING achievement. One of our product, low-cost water filter, won the Africa Prize for Engineering Innovation, Sponsored by The Royal Academy of Engineering.
During my presentation for the competition, I was proud to show GLOBALGIVING as one of our partners. As you can see in the attached photos, Volunteering University students have been so MOTIVATED and are grateful to be involved in our initiative.
These volunteers now aggressively sell our solar lanters to their home towns/villages to replicate what they leant in GONGALI VILLAGE MODEL.
Unfortunately, our capacity to purchase the solar lanterns is now very low to handle the high interest shown by the students. With your increased support we will be able to engage many students and teachers at primary schools, secondary, to university.
We will continuously give reports and we WELCOME you to Tanzania to witness this flourishing local initiative started by Africans in Africa for Africans.
THANKS FOR YOUR RELENTLESS SUPPORT!
Askwar Hilonga
Links: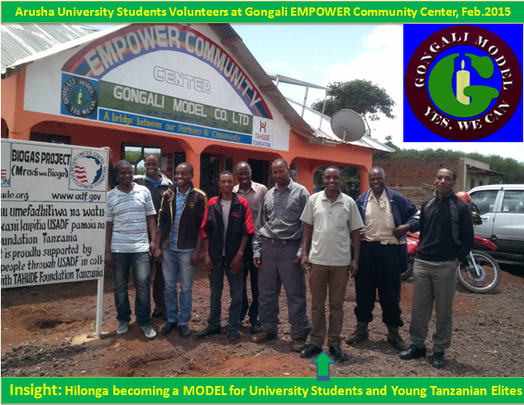 We started very simple BUT now our initiative is attracting young and vibrant university students. This time (Feb - March 2015) we received five (5) volunteer students from Arusha University who wanted to learn our impact in Gongali Village, Karatu. The students were so much INSPIRED by our work in Gongali - and were challenged to start the similar initiatives to their communities back home. Among other things, the students surveyed households to see the number of households who adopted our initiative for solar power Vs. Kerosene. The chart in the picture below show how far we have gone by Mid-March 2015. It is evident that the battle against kerosene is still strong BUT our effort is SIGNIFICANTLY EVIDENT. We thank you for your contribution to STAND WITH US, as we struggle to WIPE AWAY KEROSENE from our community. Note that Kerosene is expensive, harmful to respiratory system, none-renewable, etc. Still it is NOT easy to convince people to stop using it and move to renewable energy even as simple as the solar lantern. Our persistence presence in the midst of our community will surely change the situation. THANKS FOR YOUR RELENTLESS SUPPORT!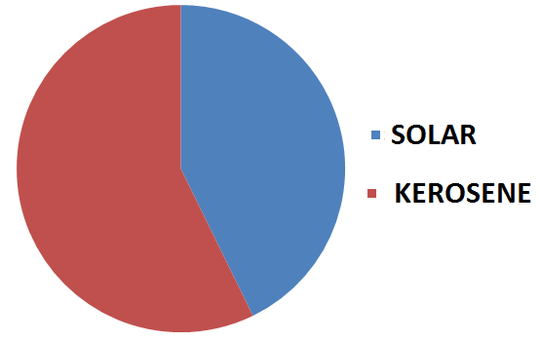 Links:
WARNING: Javascript is currently disabled or is not available in your browser. GlobalGiving makes extensive use of Javascript and will not function properly with Javascript disabled.
Please enable Javascript
and refresh this page.