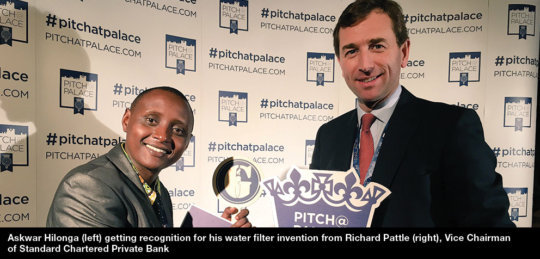 We are so grateful to share our success stories with the confidence that you are interested and ENJOY the impact we are making in our community and across the globe in partnership with UKaid/DFID/HDIF, The Royal Academy of Engineering/UK, Pitch@Palace, USADF, GlobalGiving, E3Empower, Source Institute, Mandela Washington Fellowship for young Africans (YALI), Babson College, Purdue University, Hanyang & Sahmyook Universities/South Korea, NM-AIST, A-Z Textile Mills, Gongali Model, TAHUDE Foundation, Primary Schools for Africa, Global Sustainable Partnership, and many others.
Please kindly consider our comprehensive end of year reports for NANOFILTER and BIOGAS Projects – found in www.gongalimodel.com
I hope you will enjoy some stories, pictures, and videos with my fellow Tanzanians in humble rural areas as well as those with dignitaries like Bill Gates and fulfillment of Psalms 113:7,8 when I won Pitch@Palace Global in London.
Above all, we are so happy to contribute to the happiness of thousands of people and made global environment "a little bit better" (eg. see how much carbon dioxide emission we prevented, hectors of trees saved from being cut as firewood for cooking, organic fertilizer from biogas, 8,000 trees planted, etc).
Call for ACTION: Please kindly continue to support us - this time it is enough for us if you just "like" our facebook, twitter (available at www.gongalimodel.com), or share our stories with your friends and family or on your online networks, WhatsApp, blogs, when you are presenting somewhere (feel free to use our pictures and videos), etc ............ You never know on whose hands it may land!.....and we are beware of what we are asking, "WE MAY JUST GET IT"!
Links: