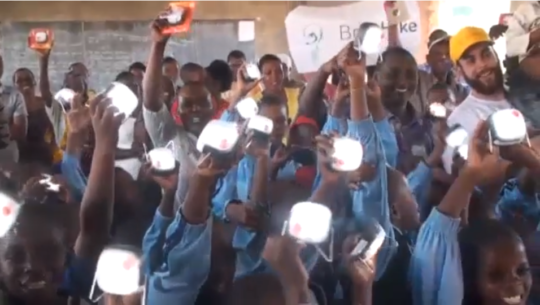 This quarter is historical in my community! For the first time, in a very unique approach, a Tourist (Mr. Mick Kopis of Brite Hike) has visited us, physically, to witness and support what he was seeing in our media reports like those on GlobalGiving.
As you can see in the attached video, the whole community and particularly the schools children were very happy to intermingle with Mick - it is so humbling to witness their excitement. This shows the impact that could be made by tourists who visit Tanzania / Africa. This (the act of Mick) is a very humbling spirit that deserves appreciation and I wish it is emulated my millions of other tourists who are visiting Africa. I am sure, after they see all animals and nature and everything else, most probably what remains in their heart is the IMPACT they made in human lives in the local communities they visited. Mick was about to climb Mt. Kilimanjaro, but he decided to drop-by the community first and donated 70 solar lanterns to school children before he continued with his tour activities. He successfully climbed Mt. Kilimanjaro and went to Ngorongoro and Serengeti National Parks. CONGRATS TO HIM and GOD BLESS HIM FOREVER!
On the other side, TAHUDE continued to implement its grass-root activities with the continuous support of supporters via GlobalGiving system. We promise to give timely reports to update our supporters. THANKS FOR YOUR INTERVENTION IN THE TIME OF NEED FOR THE SCHOOL CHILDREN IN TANZANIA
Links: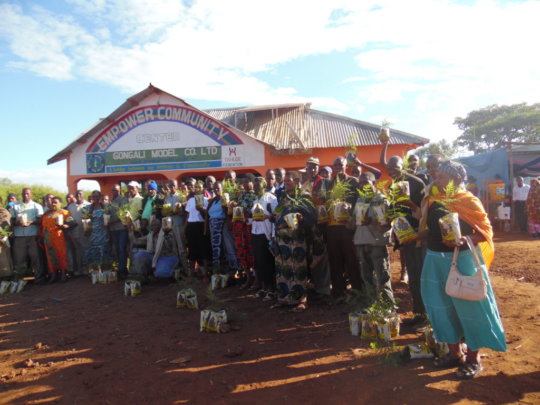 Many exciting things are happening with our Biogas Project in this quarter, along with the successful completion of the Biogas Loan Project supported by the United States African Development Foundation (USADF). USADF was very impressed to learn the IMPACT we made with the first grant they provided to TAHUDE Foundation. With this grant, TAHUDE was able to reach 534 people with green energy (environmentally friendly biogas from cow-dung).
USADF is now planning to extend its support probably from Oct / Nov 2017. With this, TAHUDE will touch another hundreds of lives in underserved communities in Tanzania. The project, along with avoiding carbon dioxide emission, also rejuvenate soil by using the organic fertilizer which is the waste product from the biogas system. TAHUDE also gave 8,000 trees to local people in the villages where the biogas project is being implemented.
We are grateful to the GlobalGiving supporters, though they were not many this time. I am sure our impressive success story with this USADF support will inspire many other donors to join our effort. The need is big because about 94% of Tanzanian population still depends on firewood for cooking. This should NOT be tolerated in this 21st Century (cutting trees for cooking!? NO!).
THANKS FOR CONSIDERING OUR PLEA FOR THIS PROJECT THAT BENEFIT EVERYONE ON EARTH (if our local people stop cutting trees then everyone on earth will benefit the free and fresh oxygen from trees)
Links: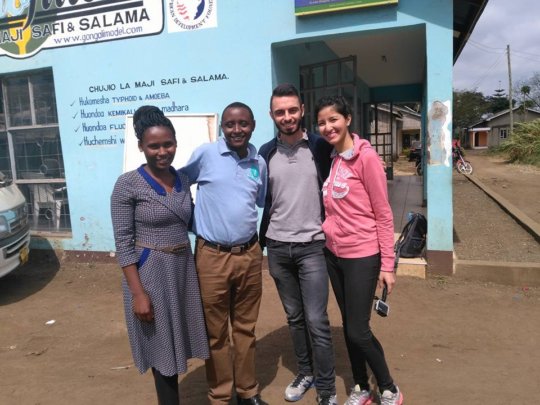 This (Nanofilter) is our highly supported project this quarter - ended in Sept 2017
We have many AMAZING stories to share, but for now consider these two:
(1) We received $2,000 from Damien & Louise of Saintes - France
See what they wrote in their email: Dear Askwar, we celebrated our marriage and 2 x 50 years this weekend with our close friends and family and it was wonderful. Damien, my husband and I are very touched and grateful that our friends have trust in our wish to support you. Also, I believe we will be able to send 2000 $ to your organisation. We have created a group on Facebook with photos from the party, I have shared yours (Gongali model) tonight and we will keep sharing your posts.
(2) Physical visit by two groups of French Tourists
I did not ask for the permission to mention their names but see how generous they were! These groups of people came straight to our office, picked the water purification filters (Nanofilter) and installed it to the communities; before they went to their Safari! What a humbling experience! MAY GOD BLESS THEM ABUNDANTLY!
Moreover, we have just uploaded two videos on the Fluoride CHALLENGE and Nanofilter SOLUTION. Please click the links below and see what I mean. Our GlobalGiving supporters are extremely moved and are generously supporting our Nanofilter Project. THANKS AGAIN AND AGAIN!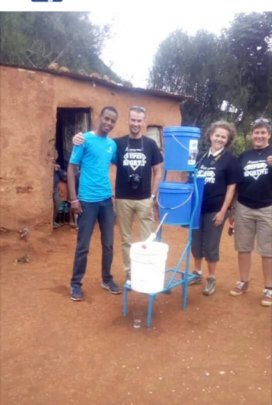 Links:
WARNING: Javascript is currently disabled or is not available in your browser. GlobalGiving makes extensive use of Javascript and will not function properly with Javascript disabled.
Please enable Javascript
and refresh this page.