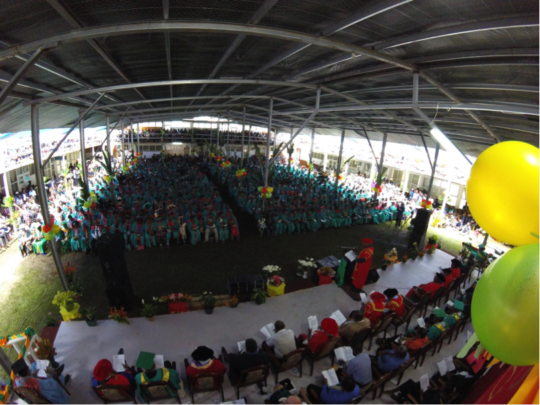 Bismarck Ramu Group (BRG) is proud to announce that our first class at the University of Goroka just graduated. This is a major milestone for our education program, "Sharing the Future."
In late 2015, BRG partnered with the Research Conservation Foundation (RCF), a sister NGO, to offer a joint course in the School of Humanities and Social Sciences at UoG. RCF takes students for 7 weeks and teaches them on Environment and Conservation while BRG takes the same students in the remaining 7 weeks on Development Tools and Community Approaches.
The purpose of the course was to shift and change the development perspective of the present and future elites of Papua New Guinea through learning and teaching in tertiary level of education. We aimed to change and impact young minds in various field of expertise to question, challenge and influence societal development mindset. Moreover, we intend to instill Melanesian values of inclusiveness, solidarity, and self reliance in-order to become true Melanesian Warriors to reclaim and carve the future they want instead of being controlled and driven by a foreign dominant model of development.
Eight students successfully completed the first course teaching. Two of the eight students that have graduated chose to work with BRG as researchers and community facilitators where they will be using what they learned to empower grassroots and rural Papua New Guineans.
As our 3-year partnership with RCF is coming to an end, the School of Humanities & Social Sciences through the Discipline of Planning & Development Studies has invited BRG for a direct partnership. Discussions are currently underway. In this new partnership, BRG will teach in the Discipline of Planning and Development Studies. BRG has developed a course guide for the Planning & Development Studies together with other teaching materials. These materials have already been tested and approved by the University. Furthermore, moving forward, BRG is looking to recruit more students from the local universities to take part in industrial trainings as well as to up-skill BRG staffs so that we can offer similar courses taught by our own uniquely experienced team.
BRG has created space for students from universities to come and do industrial training. We've had students from Divine Word University in Madang, University of Technology in Morobe Province and UoG. At the time of writing this, we have now two students from the Communication and Development Department of the University of Technology on Industrial Training. These two students are doing research on some of the development issues BRG is working on.
It is one of BRG's key strategies to invest in young people, the future leaders of tomorrow. The organization wants to continue to expand this space for young people not only to do research but to nurture a new generation of young and conscious Melanesians who will be catalysts/agents to make a difference and change the current status quo.
Want to support BRG's work to challenge and critique the model of development in PNG through learning and teaching? Donate to BRG's "Sharing the Future" Project now!