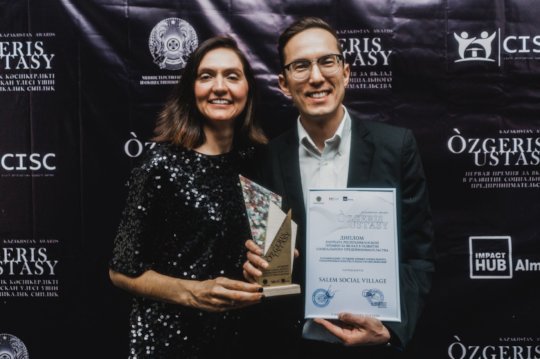 Salem Social Village was the very proud recipient of a significant and unusual award last month at the inaugural government-sponsored Ozgeris Ustasy awards (which means Creator of Change in Kazakh). Our many years of work to create change were recognised as we scooped a prize for developing social entrepreneurship in Kazakhstan.
The Ozgeris Ustasy awards were a new initiative from the Ministry of Information and Social Development, and were held at the grand Centre for the Support of Civil Initiatives in Almaty. Arman, our General Director, and his wife Angela, our Personnel Director (above), were able to attend and receive Salem's award.
Arman said, "From the stage I told them that social entrepreneurs in Kazakhstan feel lonely right now. Not many people understand or support our work. People see social ideas and projects as risky. We have to work hard against a lot of inertia and with many systems against us in order to make progress. Thanks to this awards ceremony, have received recognition and acknowledgment, not just from the government but from Civil Society."
And recognition on a national stage is also another great step forward on Salem's long-term journey to bringing change here, for which we all feel very proud and grateful.
Meanwhile, recently we held an EcoFest at Salem, because we care about the planet and want to encourage people to do their bit. As part of the event, we did some plogging! Dressed, equipped and ready, our intrepid volunteers headed off in this unusual combined pursuit of getting some exercise and cleaning up a bit as they went along.
And they were certainly successful on both fronts: a significant amount of rubbish was collected, and everyone was very inspired - which is something to celebrate in a culture where everyone assumes that social problems are the government's responsibility to solve.
Finally, may we wish you all a very Merry Christmas and a Happy New Year for 2020!