In June this year, we hired a new manager for our cafe. Here, he explains our vision for the cafe that resulted in the name change.
Hello, I'm Pasha, and I came here as a volunteer for about 6 years before I finally started to work here. When the cafe opened 3 years ago, I wanted to help and they asked me to roast the coffee. It was hard to learn to do it right but I can make great coffee now - my love for coffee grew and I've never looked back!
When it opened, it was the English Cup, for people to come who were learning English who wanted to meet foreigners and practice their English. But now that we're Salem Social Village, learning English is only one of the things we do. The cafe is where English Conversation Clubs happen, the Corner of Hope social club for people with disabilities, the volunteering club, our Friday evening social events, and much more!
Our new name is the Salem Social Cafe, because this is the heart of the community at the Social Village. We work hard to create a great atmosphere, welcoming everyone and making them feel special - we try and give unusually friendly service compared to what they're used to. We're also the only social cafe in the city (and maybe the country!), all our profits go towards other projects to help those in need, but we are still very proud of our good quality food and drinks - especially the coffee!
Unique, welcoming and quality - that's how we want people to know us. I love working with a team of great people who are part of something that's making a difference in Shymkent. Thanks for your support in making this possible!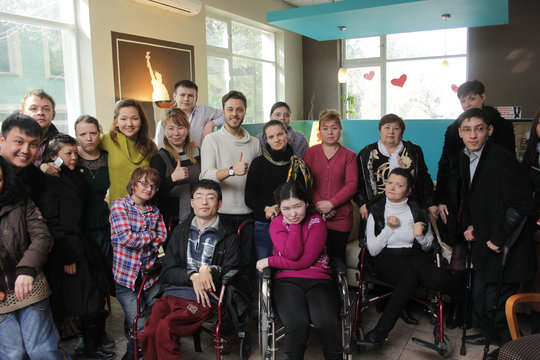 Links:
Hello! My name is Madina, and since January I've been working at Salem Social Village to oversee and develop our simulation games. Recently we changed the name of the project from Life Xperience (which was a bit hard to explain in Russian!) to Training Centre, which has helped people understand how we want to fight descrimination and make them think through teaching about global issues.
I love running our simulation games and seeing people's outlook change. For example, two guys who came with their class to go through our AIDS Xperience were just joking around the whole time. But afterwards they were really serious and quiet, and asked how they could take part in our social projects, even when their friends were laughing about them playing with kids in an orphanage. And I see lots of example like that from our different simulation games.
We don't only teach about AIDS or life in a slum. We're developing new games at the moment about themes like rich and poor, needing water, what it's like to be in a wheelchair all the time, and how to understand different cultures better. We know what we do at the Training Centre can help improve attitudes here, where young people often only think about themselves.
We've started an important partnership with Nazarbayev Intellectual School, which is funded by the government to give the best children the best education. We are running simulations and activities for their Global Issue lessons, which is a great way to prepare them to take on responsibility for the future of Kazakhstan - and it means everyone else in the city also thinks that we must be great if we're working with them!
Thank you for supporting Salem Social Village, and helping us change attitudes in this important way!
Links:
In January, I was appointed as the new leader for our Community Care team which runs many social projects at Salem Social Village. I want to tell you about our Social Club for disabled people called Corner of Hope. We meet every second week and give an opportunity for people who have to stay at home most of the time to get out and have fun together. Disabled people here often don't leave their homes because there is nowhere they can go, and people shun them - there is often shame associated with having a disability.
We have many volunteers who love coming to have fun too, spending time together and playing games. They are students who wouldn't normally have friends who are disabled, but we see how their confidence grows when they discover that they can help other people and make them smile. Recently some of them helped us take some of the disabled people to the cinema for the first time ever!
One of the girls who comes every time, also called Viktoria, has particularly benefitted from the club. Her Mum says that she has changed a lot, talking more and seeming much more confident now. She isn't just sat in her room all the time, but has found a new purpose, and friends. That's why we're seeing the club grow - they keep inviting others along. A year ago we started with five people, now we have about 30 every time! Thank you for helping us bring hope to people like Viktoria, it is making a big difference.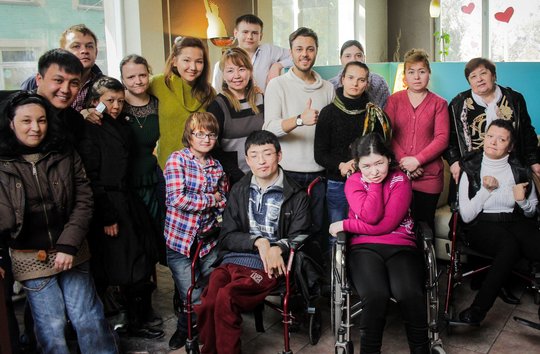 Links:
WARNING: Javascript is currently disabled or is not available in your browser. GlobalGiving makes extensive use of Javascript and will not function properly with Javascript disabled.
Please enable Javascript
and refresh this page.