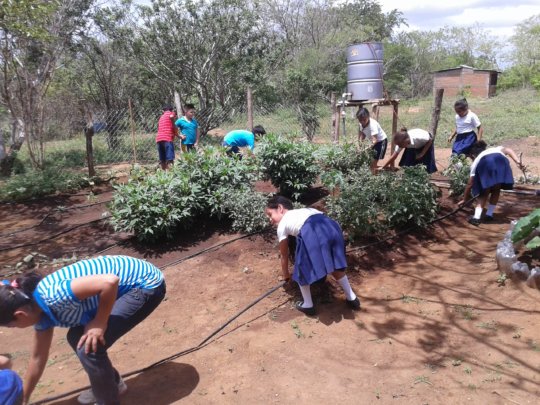 The School Garden Program is growing!
Between January and August 2016, SosteNica-EcoCentro's School Garden team added 40 new children to the already robust group of student gardeners in our project. These recently added children attend one of two schools in the rural villages of Bethany and Valley of Jesus in the Nagarote region. We have resumed and strengthened activities in three other rural schools: Copaltepe, La Chilama and Silvio Mayorga that are already participating in our network of School Gardens. At present the program serves more than 270 multigrade elementary school children between the ages of 7 and 12
During the first half of 2016, we have initiated school reforestation projects, taught lessons pertaining to cleanliness and health, set up recycling projects, planted fruit trees and vegetable gardens, harvested from previously planted orchards and even played some fun games with the kids while doing so.
Our classroom workshops include topics such as:
introduction to gardening;
life within the soil;
the methods and importance of crop rotation;
companion planting;
how to make your own organic fertilizer;
how to construct seed trays for seed starting;
double digging raised beds;
and living fence lines hedgerows.
In response to the very real threats of climate change, we have chosen to promote school reforestation. With the children, we planted 40 trees per school. We planted varieties that produce nuts or fruit, as well as serving as a carbon sink for the environment. The reforestation efforts included teachers and parents, as well as the children.
Every year we confront the challenge of having adequate water for irrigation. Even when schools have a well or potable water systems, it is very difficult for children to water the beds and orchards by transporting buckets long distances. Thus, one important objective at each school is to establish micro-irrigation systems.
Another challenge at schools, as well as at rural homes, is the quality of water taken from the drinking wells. Consuming untreated water directly from wells may impact children's health and limit their learning. We have received donations of three water filters that reduce the presence of bacteria, parasites, and other microorganisms in the water which allows for safe drinking.
As the rainy season resumes (Nicaragua has a two week dry spell, usually beginning around the end of July) children at all five schools are transplanting seedlings, as well as direct seeding other crops into their gardens to complete a second growing season and harvest cycle within the same year. (New England schools would be jealous)
The Nicaraguan Ministry of Education (MINED) has been very supportive of teaching food production at the elementary school level. Most importantly, the MINED permits teachers to count activities conducted within the garden as class hours. They even give students grades and a certificate for their participation.
Thanks to the positive reception and successes achieved with the first five schools served, the MINED has requested that we submit a plan for the coming year.
With your help, we can continue to expand this program. We would love to tell MINED that we had the support to include 5 more schools in the coming year, and welcome 75-100 more students into the project. We appreciate your further support for this campaign by giving either here or at our website: www.sostenica.org