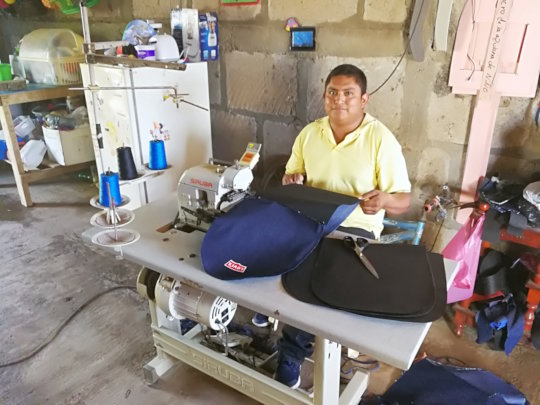 "Immigration reform" has been making headlines lately in the form of arguments about building a wall along the Rio Grande. When it's not the wall, it's DACA. Should America continue to extend protection to Dreamers, or should we deport those Latin American youth brought to the US as children? Rarely does the debate examine the reasons why people choose to leave their home communities in search of a "better life" in the U.S. Three obvious motives come to mind: (1) people flee violence and political unrest; (2) people seek economic opportunities not available in the home country; (3) people seek refuge from environmental disruptions such as drought, flooding or wildfires. Social and economic motives (numbers 1 and 2) have characterized migration to the Americas's since the 17th Century. Climate refugees (number 3) are a more recent phenomenon.
While deporting people, then trying to keep them out with walls is one possible approach to dealing with immigration, it may not be the most effective or compassionate, approach. With support of donors like you, SosteNica is modeling an alternative. Our Young Entrepreneurs program supports local business start-ups, incubating innovative ideas. We grow skills that enable the rising generation of young people to create jobs for themselves and their neighbors. When successful, these innovative entrepreneurs do not need to immigrate to a foreign land. Reports from the field suggest that our strategy is working.
Take Juan, for example. Juan, one of 40 young Nagarote business people, participated in round one of SosteNica's "Young Entrepreneurs" program. The founder of "Confecciones Deyanira", Juan designs, sews and sells bags, back packs and customized articles of clothing for the local market. After successfully completing the first seven months of training provided by SosteNica/MLAL at our EcoCentro, he qualified for a seed grant in the form of an interest-free start-up loan of $1,354 US. Juan used the seed money to purchase thread, fabric, patterns and an industrial sewing machine. "This is a very specialized machine for finishing my products. No one in Nagarote has a machine like this. I am the first. This makes my goods more competitive in the market because they look more professional" says Juan, proudly talking about his machine. "Thanks to that machine, I have been able to sell 1,000 backpacks in Managua. Let me share something interesting. I was recently featured on the EcoCentro/SosteNica Facebook page, and through that a lot of people got to know about my business. I recently received a call from Costa Rica, asking me where they could purchase my goods. That represents a huge change in my business, and it impacts my personal life – all thanks to the Young Entrepreneurs program."
Of the first 40 young people to receive training, ten have already received credit to fund their business expansion. Three of those are in agricultural production. One young man has received funding to improve and expand his beekeeping and honey business. Another is producing non-traditional fruits and vegetables, such as squash, watermelon, papaya and guava, growing year round using a system of drip irrigation and crop rotation. Another has been able to market blended animal feeds for livestock as well as for domestic pets.
SosteNica is very pleased with the success of its first class of graduating entrepreneurs. We welcome the support of skilled volunteers such as Justin from the Peace Corps. He provides training in accounting to our students, strengthening best business practices. We have also attracted the attention of "Compassion", a local evangelical non-profit, whose collaboration is bringing even more young business men and women to participate in our second wave of trainees.
As we attract more donations, SosteNica and MLAL will offer more training and credit to local start-up businesses. With or without a wall in Texas, those entrepreneurs, their families and their employees are not likely to contemplate immigration. They are too busy filling orders for their local customers.
Links: