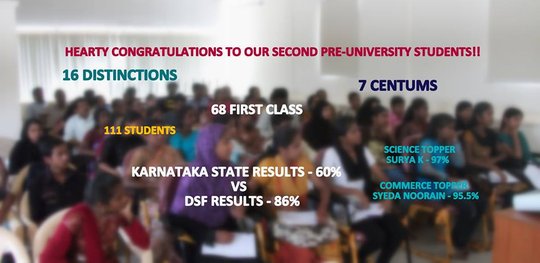 We at DSF feel very happy & proud to present to you the achievements of our students which are the results of their hard work, our efforts and your support. These results promise a transformation and pave way to a brighter future for them and their families!
As we select our students based on their socio-economic conditions, irrespective of their academic merit, these results stand testimony, that difficulties posed by circumstances can be overcome with grit and hard work, and do not determine one's success.
PUC (Grade XII) Results:
While the Karnataka state boasts of a 60% pass percentage, we are very happy to announce our PUC pass percentage to be 86%.
TOTAL NUMBER OF STUDENTS - 110
TOTAL NUMBER OF STUDENTS WITH:
DISTINCTION - 16
FIRST CLASS - 68
SECOND CLASS - 9
THIRD CLASS - 2
PASS PERCENTAGE - COMMERCE 85.80%
PASS PERCENTAGE - SCIENCE 87.30%
TOTAL PASS PERCENTAGE 85.60%
In the science stream, despite a drastic change in syllabus moving to a tough NCERT curriculum, we have had an extremely encouraging result. SURYA K, topped the science stream, scoring centum in three subjects and an aggregate of 97%, missing the Karnataka state topper position by just two percent. Dhanalakshmi R (95%), Seema Fakhruddin (90%) and Shaik Wali Basha (90%) were next in line.
Students of the commerce stream displayed intense competition with Syeda Noorain scoring 95.5%, very closely followed by Sindhu R (95.3%), Heena Taj A(93%) and Rakshitha R(92.5%).
SSLC (Grade X) Results:
After the impressive PUC (II) results, this was another feather in the cap. Our SSLC students rose to the challenge achieving a stupendous 96% result, as against the Karnataka state results of 81% with the Yeshwantpur centre students recording an astonishing 100% pass percentage!!
Rahul Balasaheb Pawar topped the batch with a brilliant 96%. Girls were not far behind as he was closely followed by Ayesha Siddiqa (93%), Madeeha Zaka (92%) and Mohana Priya S(89%).
TOTAL NUMBER OF STUDENTS 64
DISTINCTIONS 8
FIRST CLASS 35
SECOND CLASS 16
TOTAL PASS PERCENTAGE 96.8%
Every year this is a very proud as well as humbling moment for us. Year after year, our students prove their mettle and confirm that they are truly deserving of our support. The background of the students is a one disheartening tale after another and yet they manage to outwit several others who hail from far better circumstances.
Some Stories:
Surya who topped the PUC with an all impressive score in Physics, Maths, Chemistry, Computer Science of 100, 100, 99, 100 lost his father who was a driver, 6 years ago just before Surya came to us. His mother who had never stepped out of the house till then had the horrendous task before her of educating and bringing up two children. We (Sackhumvit & DSF) have completely relieved her of the burden of Surya's education and we may well be on our way to make India's next Dr. Abdul Kalam or Satya Nadella!
Seema Fakhruddin's .(3rd in PUC) father is continually ill and cannot earn & educate her while Rakshita's father (a construction worker & alcoholic) threatens to stop her education every next day. Rahul Pawar (Grade x topper) is son of police constable and wants to pursue IAS. And such are the stories for each one of them…
Just want to let you all know that this journey that we have embarked upon together is going to impact hundreds of lives and change the future for their generations to come! So let's feel really happy and proud today of this partnership and look forward to more such successful years together!
Thank you for your support & partnership!!
Warm Regards,
Maitreyee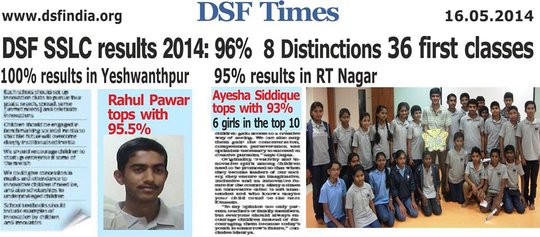 Links: