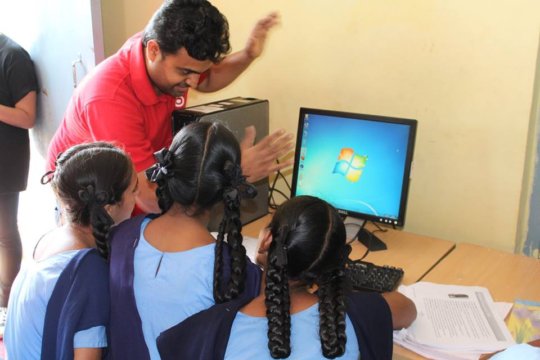 VOLUNTEERING AT DSF
One of our strong beliefs and the underlying philosophy of this organization is that every individual has the ability to contribute to the education and development of our children. In the last year, we strived to provide a platform and create structures that would enable volunteers to collaborate and drive change. Our focus this year was that people recognize volunteering as a way to play an active role in the development of the communities around them and in turn the world as a whole.
Volunteer involvement grew manifold this year with more students, individual and corporate volunteers stepping forward to support us in our mission. In addition to teaching, our volunteers were engaged in various activities, from communication, fundraising to serving as ambassadors of our organization.
We celebrated the International Volunteer Day (Dec 5) and month by conducting talks at various corporate houses on Individual Social Responsibility to motivate and make people aware of the possibilities and opportunities of voluntary work.
Our longstanding partners Target Corporation volunteered actively with our schools and centres.
A new partnership:
Spreading our wings and in our effort to expand our reach and create opportunities for volunteering beyond borders, we initiated a partnership with DIZ, an Indo-German cooperation organization that promotes youth volunteering. We aim to sensitize and enrol youth from around the world to contribute to the development of our children and create a global community of volunteers that would facilitate transfer of skills and experience across countries.
This partnership involved 2 batches of 3 volunteers spend 6 months each with us, during which time they supported our activities at the government schools and centres.
This ongoing partnership has been extremely fruitful and valuable to us. The young German interns contributed in various ways -
They added their inputs in teaching methodology as followed in Germany and participated in curriculum creation, which gave a fresh approach and perspective to our classes.
Armed with artistic skills they turned around some of our partner government schools by adorning their classroom walls with paintings which made the environment more conducive for education and the children learnt from the
Sports, music and theatre were other key skills they brought in which gave exposure and realise the potential, of our students at our summer camp and centres.
The students learnt more about the world and different cultures through interactions with the volunteers, which greatly contributed to their knowledge and confidence.
The year saw greater involvement of youth with students interning with us increasing 3 fold. Passionate youth from NIT suratkal, Ramaiah Institute of Technology, Christ College, Mount Carmel College, Ambedkar Medical College, and a few other local prestigious institutions, chose to spend their summer and semester break contributing to education and development, by interning with us. Coming from various backgrounds, from CA's to medical students, they added tremendous value to our students, given their knowledge and exposure.
They played a significant role in our summer camp by strengthening the fundamentals of Mathematics and English of our students and igniting their curiosity through experiential learning in science. They also contributed tremendously in reaching out to communities around our centers and enrolling beneficiaries for our programmes and volunteers as mentors. They brought out the creative side of our students by training them in music, theatre and dance which proudly displayed at our Annual Day.
The year also witnessed greater participation of corporate volunteers, as employees from our partner organizations mentored our students and participated in various activities and events through the year.
Volunteers of the year:
Sharan
A Chartered Accountant by education and an ex-consultant from Ernst and Young, Sharan volunteered with us for 6 months, before he went on to to pursue his MBA from INSEAD, Singapore. Keen on giving back to the society, Sharan not only taught Accounts for the pre-university students at our center, but with his experience & contacts also helped us in our fund raising efforts. His passion for the subject and his ability to simplify it for better understanding made him a favourite of the students.
Vishal
Passionate about teaching and making a difference through influencing young minds, Vishal, an English Literature student at Christ University, left his high flying career as a Chartered Accountant at Ernst and Young, to pursue his passion of teaching. He led our English and Accounts boot camp for pre-university students during their summer break and was also instrumental in bringing out the hidden potential of some of our students through an intensive one month long theatre workshop resulting in a play which was staged during our Annual function and was much appreciated by our partners and students alike.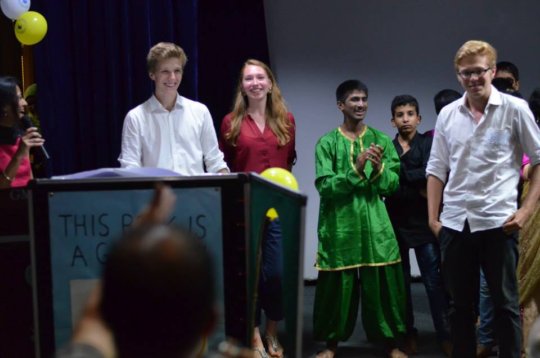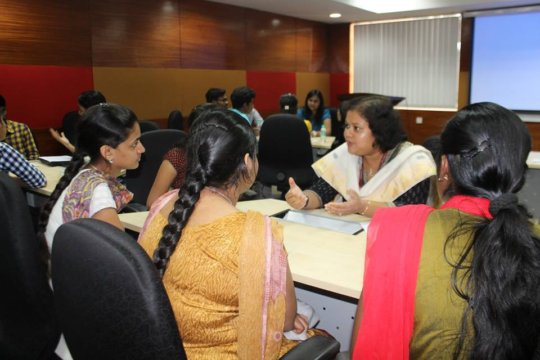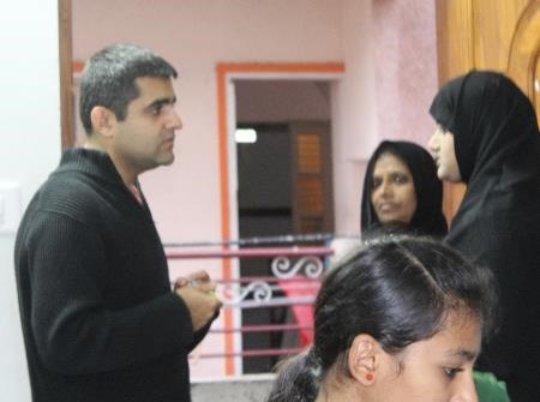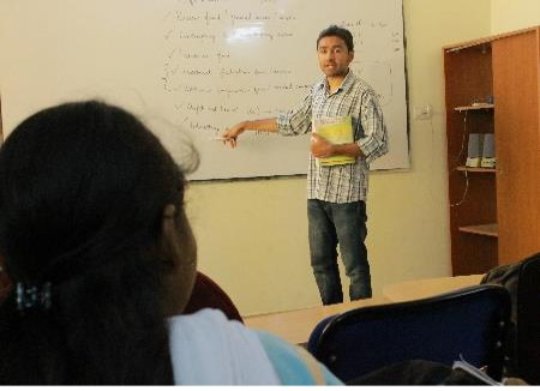 Links: