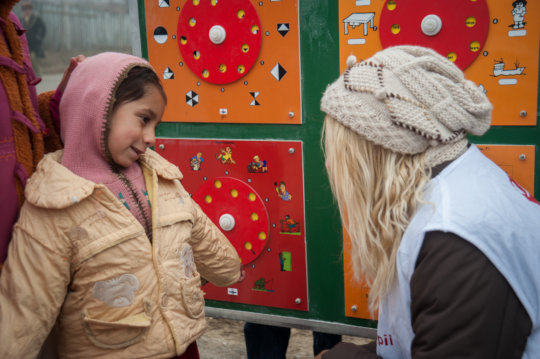 Winter seems like a lot of fun, especially for the kids. There school break, Christmas, snow and the list can go on. For most of the children included in our project the reality is a bit harsher. Since they don't have proper houses, heating the rooms they live in is more difficult, and most of the time they don't have them means to do that. Even for they improvised stoves they are not always able to provide wood. Then, when it snows a lot, the community they live in becomes isolated. there is no proper road in the community and sometimes children have to walk for over 2 km through 30-50 cm snow, in order to go school.
This winter we tried to bring as much joy in their lives by offering them the possibility to enjoy most of the things every child enjoys. Around Christmas we went caroling, they got to see Santa Claus and receive gifts, we played in the snow, and continued to run daily activities in our educational center. Here, they can spend several hours every day, playing, doing homework, socializing, receiving social and psychological support, if needed. Also, they receive a hot meal every day, which is, unfortunately, the only meal some of them have.
Luckily, this winter was not very harsh in our region. Although it snowed a lot in the last period, the temperatures didn't go very low. As much as possible we tried to provide for the children proper clothing and shoes, since many kids were still wearing snickers in the snow.
All these being said, we are looking forward to the warm time, so that we can go out again in the community and be able to play and learn with the mobile school.