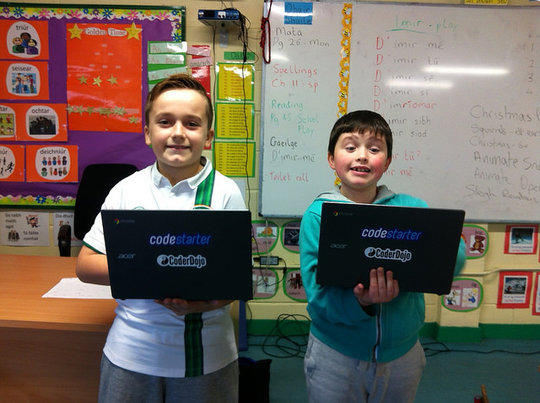 Happy New Year from the CoderDojo Foundation Team!
We now have over 550 Dojos in 55 countries worldwide, with New Dojos being set up in China, Brazil and the Democratic Republic of Congo in the past 2 months! We are currently impacting over 22,000 children on a regular basis and have over 3000 technical mentors worldwide.
Since the last report, we have expanded our partnership with CodeStarter to provide laptops to children in Dojos located in underserved areas WORLDWIDE! Before Christmas some Foundation members delivered the first international batch of laptops to the Deansrath Dojo in Dublin.
In December, the pilot for our Recommended Practice project ended. Recommended Practice helps Dojos, both new and old, around the world to adhere to best practice guidelines. Upon review, we will be rolling out our final principles and guidelines out to our 500+ Dojos worldwide which will help them create the best environment for kids to learn how to code. From an initial pilot of 30 Dojo we are delighted that we now have 13 Dojos aligned.
CoderDojo have also participated in many events in the past few months, including the BT Young Scientist Exhibition (BTYSE) in Dublin, which has helped us to attract New Organisers & Mentors for Dojos and more attendees for existing Dojos. At BTYSE CoderDojo Ninjas showed off their latest projects to the 10,000 attendees and the team ran HTML lessons for the aspiring scientists exhibiting and attending the showcase.
For more information about what we have been up to check out our Q4 report in the link below.
We want to take this opportunity to thank all of our new and ongoing donors for supporting CoderDojo over the holiday period! We hope you will continue to support our vision of giving every child in the world the opportunity to learn how to code in a safe and creative environment. We would love if you could also inform your friends, family or colleagues about our work and encourage them to support us too!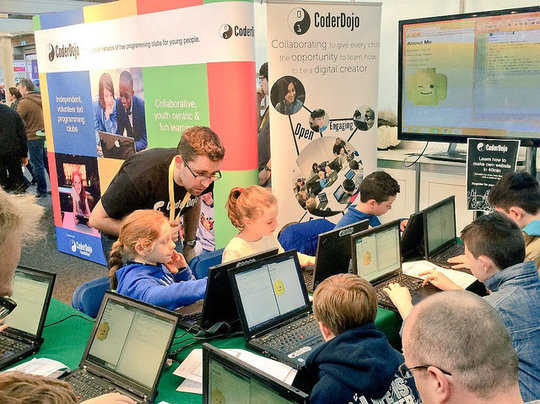 Links: