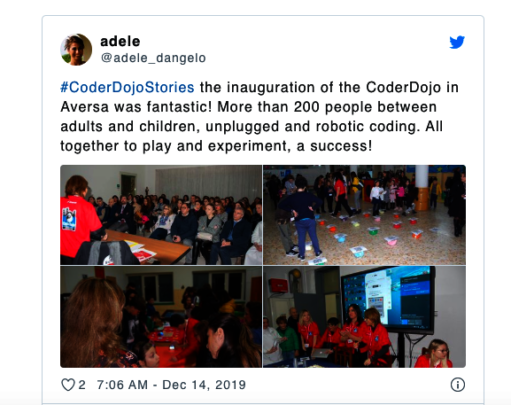 Happy New Year!

As we lay the groundwork for the year ahead, we'd like to take this opportunity to recognise some great moments that you have helped support around the world. CoderDojo's grassroots, volunteer-led movement of free clubs is now into its eight-year of existence. In that short time, hundreds of thousands of learners have brought their ideas to life with technology in free coding clubs in 111 countries (and counting)!

Highlights from the community
Throughout the year we've been asking the community to share their favourite moments from 2019 via the #CoderDojoStories and some great stories have been pouring in.
CoderDojo Belgium shared the story of a youth mentor, Bryan, who has started his own Dojo and begun a graduate degree in Computer Science!
Chinedum from the Maitam Dojo gave a shout-out to three of his ninjas who received nominations in our Boo Challenge Competition. What a great achievement!
Well done to the Ninjas from the Altona North Dojo, who presented projects at the Monash Maker Faire in Melbourne — what a great learning opportunity. Thanks to STEMDownUnder for the share!
Adele shared some great pictures from the launch of the Aversa Dojo in Italy, featuring a range of activities from unplugged games to robotics.
Seven Ninjas from the Timisoara Dojo traveled to Moscow for a special event that brought biology and programming together. It's fantastic to see Dojos taking a multi-disciplinary approach.
Supporting a growing community
At the Foundation our role is to provide the support structures to help this community continue to flourish. If you want to know more about the nuts and bolts check out in our penultimate quarterly report in the link below.
One of the major challenges we will be addressing is helping this wonderful community to stay, excited, inspired and resilient. Being a volunteer is a huge commitment and gift to local communities. We will continue to connect community members via our live webinars to inspire and inform each other, there will be more meetups and Coolest Projects Technology fairs and case studies and articles such as the two below:
Check out our case study with Ms. Sofia. Ms. Sofia is tackling real-life issues with code in India to keep her young learners inspired and eager to tackle the next challenge.
A common challenge is keeping young people engage in clubs as they enter their teenage years. We've written an article on how to continue challenging older Ninjas by helping them complete the move from block to text programming, which you can check out at our main news page.
The year ahead has lots more excitement in store, foundation staff and Ninjas in clubs around the world have their sights set on three great Technology Fairs. Coolest Projects events will be kicking off in the USA in March, in the UK in April culminating in the big International showcase in Dublin, Ireland in June. We can't wait to see what great projects this year's participants have in store for us!
For now, bye and thanks for your support on behalf of 2,131 Dojos worldwide and the team at the Foundation!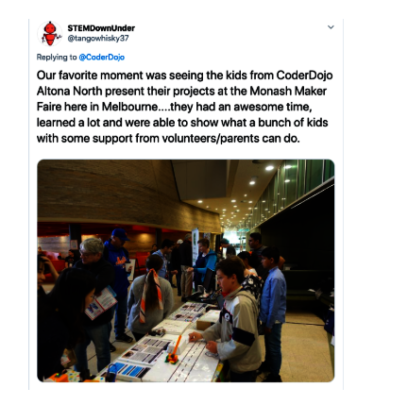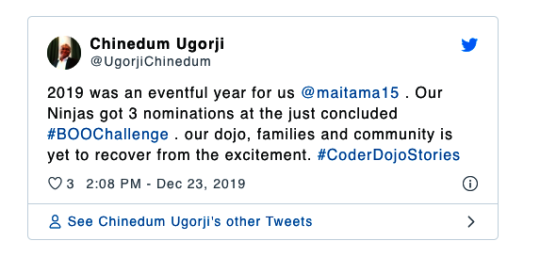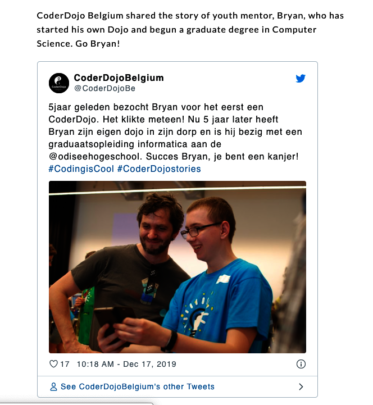 Links: