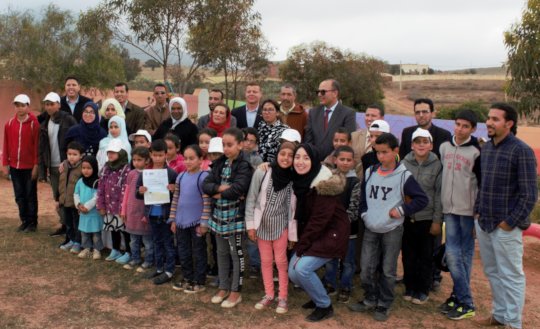 This past week we have closed our Oasis School for the 2017-2018 edition. Parents, officials, teachers, our team and, of course, the pupils all came together to celebrate the end of this year-long rewarding program.
The pupils performed a play, a very telling story of what they have learned through the year. They were crouching and then with water, started rising to become trees. Life-giving trees, akin to the Argan trees that are unique to this region of the planet. Loiters barge in, throw garbage, seesaws cut branches and for the children to crouch once again, weak and sad trees. But yet again, other pupils run in to the rescue, they clean, water and, especially, love the trees which then sprung up again, trees wearing the happy children's face who understood and enacted with their bodies what care and environmental care do mean in reality.
We were all so happy to see such a performance and proud of the initiative of the children. But it was a very bitter-sweet moment, like when the little Khadija who, at the end of the ceremony, mouth still full of cookies and sweet couscous, was chocking and saying how much she will miss the Oasis School, and if "we are coming back next year?"
Dar Si Hmad and its partners delivered over 86 contact hours, 280 meals, made an insect-hotel, installed a pump, bought equipment for the school, seeds and seedlings, and taught the children with passion how to care for one's environment. As Husin, one of the 10 year old boy participant, this has allowed us to not only understand but to work with our hands and see the difference in our dry garden in September and today, all green and beautiful.
Thank you all for supporting Dar Si Hmad in its initiative and making such experience possible for poor rural children. Without your support this would not have been possible. Simply thank you.