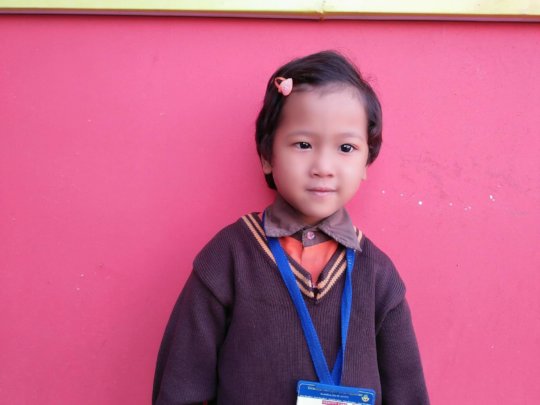 Dear friends,
Namaste and Greetings to you all !
It's our great pleasure to share with you all beloved friends the Quarterly progress report of SDO-Nepal's child-home-orphanage for the duration of 13Nov to 7Feb, 2018 as follows:
1) Our story:
"Mam, please do not send me to my home, my mother feeds me a lot of locally made wine which I do not like. I could not get milk tea at my home and there is no English medium school at my village" says 5 years old SABITA at child-home ,being sentiment having full of tears at her tiny eyes. Her mother is mentally sick and her father died 4 years ago, Sabita can not remember her father. She is very poor and are from tribal caste. SABITA came to this child-home-orphanage when she was 2.5 years old. Now she is studying in a English medium school at class-LKG and has been receiving Grade: A continuously since 2 years. She is very interested in reading, coloring and Art works.
2) Achievements:
a)Educational progress of children:
We are so glad to share the Educational progress Report of the children who received the outstanding and excellent performances on Second-Terminal-Exam of January as below:
* SRIJANA, Class-1 received Average Grade-A+ and GPA: 4.00 ( i.e. full marks on all subjects) with Outstanding performance.
*PEMBA, Class-2 received Average Grade-A+ and GPA: 3.88 with Outstanding performance.
*DOLMA, Class-3 received Average Grade-A+ and GPA: 3.88 with Outstanding performance.
*SUSMITA, Class-3 received Average Grade-A and GPA: 3.40 with Excellent Performance.
* SABITA, Class-LKG received Average Grade-A with Excellent Performance.
Rest girls are also receiving good results in this exam.
b) Extra-Curricular-Activities:
* All children participated on GNJDV-IDOL competition at school . Finally, ANJU, Class-7 won the 1st-GNJDV-FASHION-IDOL award.
* Priya,class-8, Anju,class-7 and Durga,calss-5 participated the educational-tour to Gorkha.
* Similarly, Priya, Class-8, Anju, Class-7 and Saraswati, class-6 participated on Educational tour to Chitawan national park and its periferi districts.
* Visiting vegetables shopping center from school to observe vegetables , fruits varieties to children. SABITA, Class-LKG has participated on this visit.
* Children have actively participated on arts and crafts works as part of a ECA program at school
* Children Durga, Priya, Saraswati, Anju, Dolma, Susmita and Pemba have demonstrated wonderful performances on their project work of science and social subjects.
* Children played the Rolly-Polly game at their school.
* DURGA, class-5 celebrated her BIRTHDAY at child home cutting cake and lighting candles with great joys.
* All our children celebrated Merry-Christmas, English new year, Maghe Shakranti and Saraswati Pooja festivals and eves with happy environments at child-home and at their school.
c) Others:
We have conducted the regular meeting of SDO-Nepal . Main decisions made are:
* Endorsed the income and expenditure status made during early six month of FY 2074/2075.
* Monthly donations will be done @ Nrs 500( $5) per month by each SDO members in order to sustain the Orphanage.
* A big thanks and Gratitude to all respected DONORS who are making this program success and fruitful.
* Dr. Thakur , the life member of SDO is given the responsibility of Health-Coordinator at SDO.
* Monthly meeting will be conducted on 1st Saturday at 12.15 PM of every month.
* In order to refresh the children a PICNIC program will be conducted on 10th Feb Saturday accompanying with all SDO families, children and members as well as with all our supporters and well wishers venue at Balaju Park.
* Reviewed the children's educational progress and Extra curricular activities i.e. Mark sheets and appreciation certificates achieved by all children during this period.
3) Financial status:
During this 3 months of period we paid- $350 for monthly school fee/ exam fee, House rent paid- $ 480, Food cost paid- $450, School uniform purchased- $30, Children's educational tour expenses-$60, Water taps/ tube lights/ pen drive/ multi pluck/ photocopy paper etc purchased-$ 35.
4) Our kind Gratitude and Acknowledgements:
We are so thankful to those friends who supported with cash/foods/ cloths/accessories etc during this 3 months period are:
* Leila/Suresh for providing fruits, story books and game items.
* Nepal Ireland society/ Garima Kandel Memorial Trust for granting earthquake scholarship @ Nrs 100( $10) per month for 24 months to SABITA, Class-LKG for her study.
* Mr. Omkar for donating Nrs 10,300( $103) for child home.
* Rajan for providing warm Jackets to all children.
* Sanukaji has donated Nrs 5000( $50) on the memories of his late-mother.
* Mr. Manuj for Providing dinner to children on the occasion of his daughter's rice-feeding ceremony.
* Sarita for providing dinner to children on her birthday.
* Saugat for providing confectionery/foods on behalf of his birthday.
We are always Grateful to our most-respected-DONORS - for your continuous-Donations through GlobalGiving and at our office !
We are indebted with you all beloved friends for your love, inspiration and support to ensure the lives of these children. THANK YOU ALL!!
Dear friends, from the love and support from all of you, our hopes are sprouting and getting encouragement to protect more needy children and run the orphanage sustainably. But, due to the highly increasing market price day by day, it is being hard to provide the fundamental needs to our orphans and abandoned children. You all know well, our Project is Live on GlobalGiving's site. we look forward for Your continuous support, encouragement and hoping that you will spread your kind words to support on our Cause. These are also your own children. Before closing, we would like to extend our heartiest thanks to GlobalGiving Team, Our valued Donors and Supporters who have been supporting to our children!
With kind gratitude !