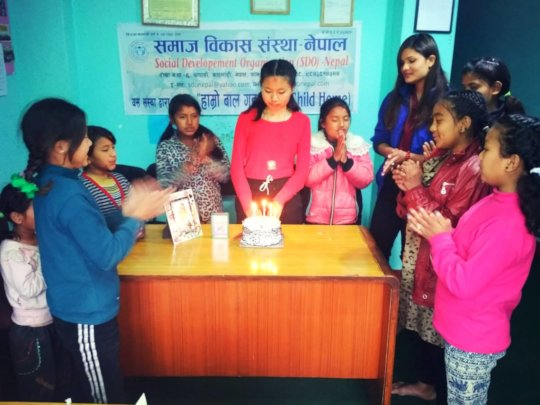 Dear friends,
Namaste and Greetings,
It's our great pleasure to share with you all friends the Quarterly progress report of SDO-Nepal's child-home-orphanage for the duration of 28th Jan to-date as follows:
1) Our story:
" Don't touch our clothes, your hands are contaminated and dirty"- a man angrily said to our children who was living in the same building where we were living. Incident is that, our girl were removing the neighbor's dried clothes safely from the rope and instead they wanted to hang their wet clothes on that rope. This incident made us sentiment and crying that what our Nepalese society is behaving to these innocent orphans and abandoned children. Our children shared with us this incident and asked sir/maam , is our gate separate and we do not need to share our building with others at our new home ??. In reality, our children are quite healthy, talented , neat and clean than their children. So, we decided and also shifted our child-home to a separate, secured and wide area where our children are safe, pretty happy and feeling this is their own home.
2)Achievements:
a)Educational progress of children:
We are so glad to share the Educational progress Report of the children who received the outstanding and excellent performances on the FINAL -EXAM as follows:
i)SRIJANA, class-4 achieved OUTSTANDING PERFORMANCE with GPA-3.89 out of 4
ii) PEMBA, class-4 achieved EXCELLENT PERFORMANCE with GPA-3.60 out of 4
iii) KARISHMA,class-4 achieved EXCELLENT PERFORMANCE with GPA-3.37 out of 4
iv) DOLMA, class-5 achieved EXCELLENT PERFORMANCE with GPA-3.26 out of 3.5
v) SUSMITA, class-5 achieved EXCELLENT PERFORMANCE with GPA-3.09 out of 3.5
vi) SABITA, class-1 achieved EXCELLENT PERFORMANCE with GPA-3.16 out of 3.33

* Rest girls also achieved Satisfactory-Performance in the final exam and upgraded accordingly.
b) Extra-Curricular-Activities:
Susmita and Dolma of class-5 were awarded with pencil packs, color packs and geometry sets from the school.
3) Others:
Priya(Rani) celebrated her 15th Birthday at child home by cutting cake with children. They all enjoyed a lot.
We shifted our child home from Tokha-6 to Tokha-8 which is close to our old home. The new home have 6 rooms with a store rooms and 2 rest rooms. There is enough ground space where children can play and also in the rest area we are developing a flower garden and a beautiful kitchen garden.
We conducted a Health-Camp at Basundhara in collaboration with Ujyalo Health Clinic and provided the medical consultation and health check up by specialist doctors of Gynecology/ Obstetrics and General Physician. A big thank you to Dr. Triloki and Dr. Sarita for your worthy time. Similarly, our thanks to SDO and Ujyalo Team and committed volunteers to make it success.
4) Financial status:
During this 3 months of period we paid- $ 840 for house rent. Food /water purchased-$150, School fees paid- $ 210, Carpet purchased-$ 140,Care-Giver salary paid- $ 180, office shifting and maintenances-$ 140, miscellaneous expenses-$ 25.
5)Our kind Gratitude and Acknowledgements:
i)We are always Grateful to our most-respected-DONORS: ANN, KRYSTINA, MATTHEW, CINDY, BEATRICE, ANA MARIA, WOLF GANG , MARTIN, RAJAN, STEVEN for your CONTINUOUS MONTHLY DONATIONS through GlobalGiving and at our office !
Similarly, our kind Gratitude to our friend BEATRICE for selling Nepali felt-items at UK and sending extra-donation through GlobalGiving.
Our heartiest thanks to an anonymous friend for your precious donation through GlobalGiving.
.
ii) We are indebted to you all beloved friends for your love and support through GlobalGiving and at our office to ensure the lives of these children. THANK YOU ALL!!
iii)Similarly, we are so thankful to those friends who supported with cash/foods/ cloths/accessories etc during this 3 months period at our office are:
We would like to THANKS to our friends UWE and ETSUKO for donating Nrs 1,29,000 to continue the school education and to provide basic needs to children.
Our sincere THANKS to Rhythm-Star-Baby for your worthy donation of Nrs 22,000 from the funds raised $ 1 from every sell of quality and affordable baby products.
We thanks to Samita and Mahesh for your worthy donation of Nrs 24,000 for orphanage.
We also Thank you to Namuna and family for donating Nrs 9,000 to orphanage.
Our sincere gratitude to Ram sir and Prabha maam for donating 12 sets of beautiful one piece clothes to children.
Thank you so much Leila, Suresh, Rhiannon and Tom for your love and providing game item, tooth paste, soap, and hygienic as well as teaching, dancing and playing with children.
Our SDO general secretary Maya and family provided dinner to children on the memory of her deceased father.
Thank you Bidur and Saraswati for celebrating 1st-Birthday of your son-Shubham and providing food stuffs to children.
Thank you Ramlal and family for providing dinner on the memories of your deceased mother.
Thank you Pramod for celebrating Birthday with children and providing dictionary and stationery.
Thank you Nabaraj and Indira for your visit and teat to children.
Thank you Jiwan for celebrating birthday with children and proving stationery and sweets.
Thank you Samjhana for celebrating 50th Birthday with children and proving delicious dinner.
Dear friends, from the love and support from all of you, our hopes are sprouting and getting encouragement to protect more needy children and run the orphanage sustainably. But, due to the highly increasing market price day by day and rapidly increasing education costs, it is being hard to provide the fundamental needs to our orphans and abandoned children. Your every donation is precious and will bring the significant changes on the life of these orphans and abandoned children. we look forward for your continuous support, encouragement and hoping that you will spread your kind words to support on our Cause. These are also your own children. Before closing, we would like to extend our heartiest thanks to GlobalGiving Team, Our valued Donors and Supporters who have been supporting to our children!
With kind gratitude !