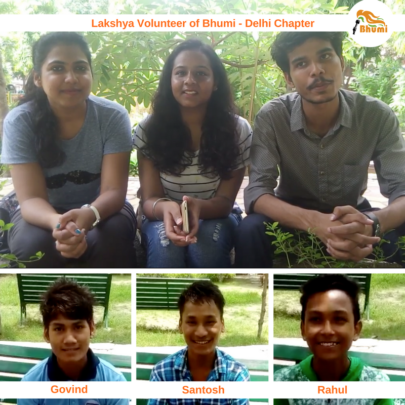 Volunteers at Bhumi have been earnestly working to cultivate the lower social stratum into a garden of knowledge, confidence and self-sustenance. In this regard, one significant programme of Bhumi among many is mentoring children in shelter homes. 'Lakshya' (meaning target), aims to provide life skills and guide children in understanding their strengths and in defining an identity for themselves.
Govind, Rahul and Santosh resided in a home run by Bhartiya Adimjati Sewak Sangh in Delhi where Bhumi started Lakshya in 2016. The home provides shelter for children from remote villages and economically backward families and supports their education till class 10.
With time, Bhumi volunteers observed that some of the children were lagging behind in their academics and had no ambitions for their futures. Having gone through more than what children ought to, these children were 'ignorant and unrefined' - the challenges were evident to the volunteers. Even though the original structure of Lakshya had only weekend classes, Himanshu (one of the volunteers), started teaching these children everyday. He assisted them in school subjects and provided thoughtful guidance for setting goals. The determination and enthusiasm of one volunteer became contagious, attracting more volunteers of Lakshya to support the classes.
The volunteers had several well-thought out discussions with the children to understand their plans for the future. They gave personalised attention on possible career options based on their interests. During which, they identified three children who wanted to opt for Diploma degrees in engineering after class 10. The children had to endure many hurdles to achieve this. Firstly, their academic performance had to improve; with daily coaching assistance, this gradually got better. Secondly, the home permitted stay of children only till class 10 exams, after which they are on their own. Govind, Rahul and Santosh feared that they would be stranded once again. Bhumi volunteers approached the home and convinced them, with great efforts, to allow the children to stay until their admissions. Finally, and most importantly, the children had to clear the entrance exam, which they did with satisfactory scores.
"It is a proud moment for all of us. It feels great that these children are proceeding towards a better future and that we (volunteers) have contributed towards it," says Ms. Lakhbir, content with the Lakshya team's accomplishment.
Unexpected troubles came up during the admission process. The children had to submit caste certificates from Delhi government as per admission rules, while they had the certificates issued from their respective states. It takes months to transfer the caste certificate from one state to another. However, the concerned government officials were kind enough to speed up the process and issue the certificates in just a few days. Volunteers took the responsibility of accompanying children throughout.
"… I am very happy that I got admission in a government college. The volunteers helped a lot … I convey my profound thanks to them. I am very happy," Santosh smiles with happiness.
Many volunteers played key roles in this journey, few of whom are Himanshu, Lakhbir Kaur, Urvashi, Narender, Ronil, Mikki and Sneh. Though they are employed, they took turns and ensured that one or the other was available for the children's daily coaching till admissions. Govind, Rahul and Santosh have gotten into reputed Polytechnic colleges in Delhi and are all set to start their journey towards a better tomorrow.
Ms. Urvashi is delighted and shares, "Teaching these kids have not only lead to their betterment, but also helped us in gaining confidence. It was by the team's collective effort and determination that we were able to overcome the obstacles."
The journey has motivated other children in the shelter home to focus their energy on education and to dream big. They are now in a streamlined path and tend to meander much less. Govind, Rahul and Santosh have left a miraculous mark that influences others to dream and achieve.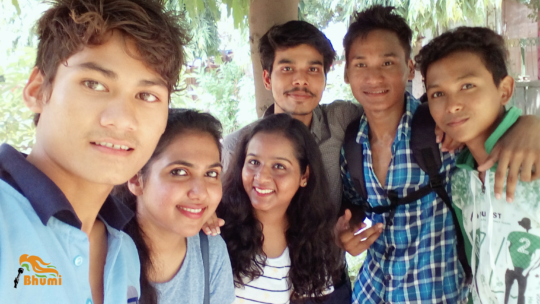 Links: